The Internet Is Obsessed with "Laundry Stripping" — but There's an Easier Way to Get Cleaner Towels
We
independently
select these products—if you buy from one of our links, we may earn a commission. All prices were accurate at the time of publishing.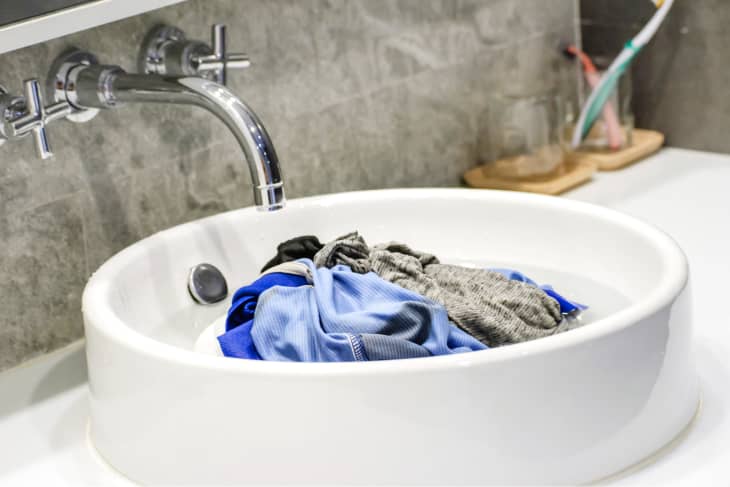 Three cleaning products sit on the edge of a bathtub in a recent viral TikTok: Borax, Tide, and a box of Arm & Hammer Washing Soda. According to the creator of this "laundry stripping" video — and tons of users like her, whose similar videos have amassed millions of views — these ingredients work together to "strip" laundry of lingering dirt and grime, which is apparently evident in the brown water after five hours have passed. 
"Stripping" laundry seems like a good idea, since, you know, you want your clothes and towels to be clean. And the nasty bath water seems to prove the viral theory true. But according to laundry expert Patric Richardson, if you're doing your laundry correctly, you shouldn't actually need to strip it. 
First off: It's probably not actually dirt that's coming off the towels, but excess product. "If you use too much detergent or if you use fabric softener or dryer sheets, then the 'stripping' process is just taking residue from all these things off," he says. "Save yourself a step by just not using these to begin with."
If you've ever switched to a more natural shampoo (like the "no poo" method), you've probably noticed the waxy grime on your scalp. It's a similar practice at play here: It's not dirt or germs, but years of buildup from using products on your hair. Theoretically, Richardson says, using a couple of cups of baking soda in a load of laundry is an effective way to remove the buildup on your clothes and towels.
To prevent the need for stripping altogether, skip the fabric softener and dryer sheets, which only coat the material and make it less absorbent. "These things just add a layer to your towels or clothes that provides a synthetic softness," says Richardson. "But if you use less detergent, then you get a natural softness."
How much is "less detergent?" And is it still effective to undercut the amount recommended on the detergent bottle? Richardson says yes, and that most normal loads of laundry only require around three tablespoons of detergent. "They have to put an amount on the bottle that works in every situation," he says. "If you have the hardest water in the United States or you're washing 36 dirty soccer uniforms, the detergent still has to work. But most people aren't washing that much, so they don't need as much."
The only time you'd theoretically need to strip your towels is if you're transitioning to using more natural or eco-friendly products (like laundry soap instead of a harsh detergent) or if you're committing to a new routine using less detergent. If you're currently using a lot of detergent or fabric softener, you'll probably notice some grime in the tub the first time you strip. But after a few washes with your new routine, you'll notice the water stays clear instead of turning brown, which means the synthetic layer is gone — along with the need to soak your clothes in the tub once a month.