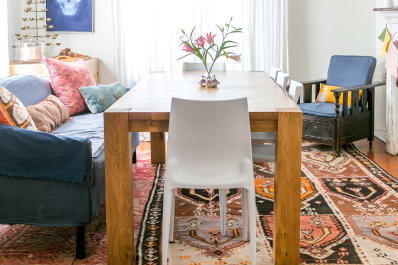 The other day we looked at a bunch of rooms that went unexpectedly without rugs or carpets, embracing a relaxed bare-floor look. Today let's go in the opposite direction: what does it look like when one rug just isn't enough.
The most common look for layering rugs seems to be an animal hide (faux or no) over a sisal — this is probably the most neutral option. Other examples mix patterns and colors, sometimes creating a bohemian wonderland of textiles. Dusty, perhaps, but cozy and romantic!

1. Floral over plaid in this room designed by Jeffrey Bilhuber, via the decorologist
2. Layered Oriental rugs lend an air of mystery, via Matters of Style
3. Layered rugs keep this garden room feeling cozy, via Sara Says Awesome
4. Eclectic patterns layered in this room featured in House to Home, photo by Paul Raeside
5. Mixed stripes in the bedroom chez Lisa Maycock of Vena Cava, via Design Sponge
6. Nicole from So Haute layered a neutral hide over a neutral sisal, via Apartment Therapy
7. Mismatched oriental rugs serves a wall-to-wall carpet in this room, photo by Tony Cenicola for the New York Times
8. Oriental rugs layered in the J. Crew catalog, via Apartment Therapy
9. A zebra hide rug over an Oriental rug, via Sara Says Awesome.