Le Creuset's Wide Butter Dish Is a Must-Have for Summer Entertaining — Snag It for 30% Off!
We independently select these products—if you buy from one of our links, we may earn a commission. All prices were accurate at the time of publishing.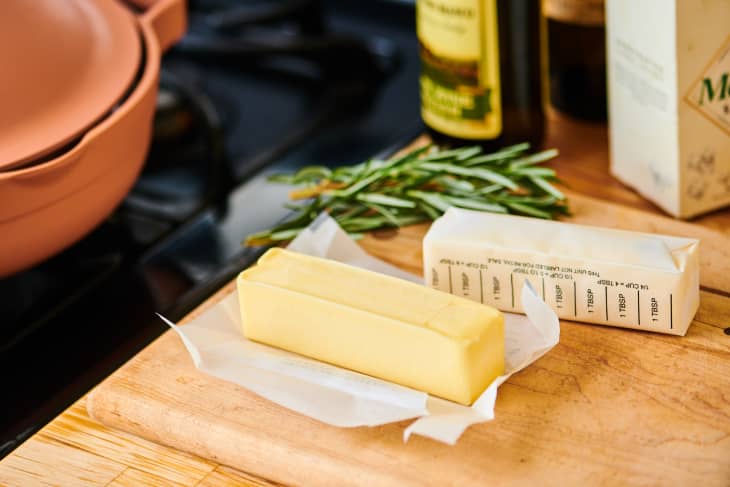 Butter makes (almost) every dish taste better, but the thought of actually cooking with it can be enough to dissuade you from using it. Unless you buy the kind that comes in a tub, the greasy ingredient is such a hassle to work with. You have to unwrap and then later re-wrap its fussy wax paper, which never folds back into place. As a result, the next time you pull the stick out of the fridge, you're usually met with a dry, crumbly consistency. What's more, if you want to spread the butter onto something, you have to leave it out on the counter for a few minutes beforehand. And then comes the question of outdoor dining. Seemingly small issues such as melted butter are enough to make any patio gathering feel like too much trouble as opposed to a laid-back hangout. But we found a solution to all of the aforementioned problems in the form of Le Creuset's European butter dish. Not only is this a great accessory to have on hand for outdoor summer meals, but it's also 30 percent off right now!
Follow Topics for more like this
Follow for more stories like this
There's no need to mention it, but this simple dish is undeniably beautiful, just like the rest of Le Creuset's stoneware. It's available in seven joyful colors that'll add a pop of brightness to your dining spread. More importantly, it sports a width of 5 inches, meaning this roomy dish can accommodate even your largest sticks of European butter. You can leave it out on the counter to let the butter soften without exposing it to the elements and risking contamination, but rest assured that the cool material will also prevent any melting once you bring the ingredient outside. And if you don't have time to wait for the butter to soften, you can place the dish directly in the microwave for a few seconds to get the job done faster!
In addition to being microwave-safe, the butter dish is also safe to place in the oven, freezer, dishwasher, and fridge. As a result, you can enjoy quick cleanups and hassle-free storage without having to worry about the nonstick glaze chipping or cracking. Best of all, your butter stays fresh and soft (but still solid!), not to mention easy to cut into with a basic butter knife. So what are you waiting for? The temperatures are only going to get warmer from here on out, and the 30 percent discount won't last forever. This butter dish is going to be a very stylish lifesaver, no doubt!