Le Creuset's Bread Oven Is Now Available in Stunning New Colors (Just in Time for Fall Baking!)
We independently select these products—if you buy from one of our links, we may earn a commission. All prices were accurate at the time of publishing.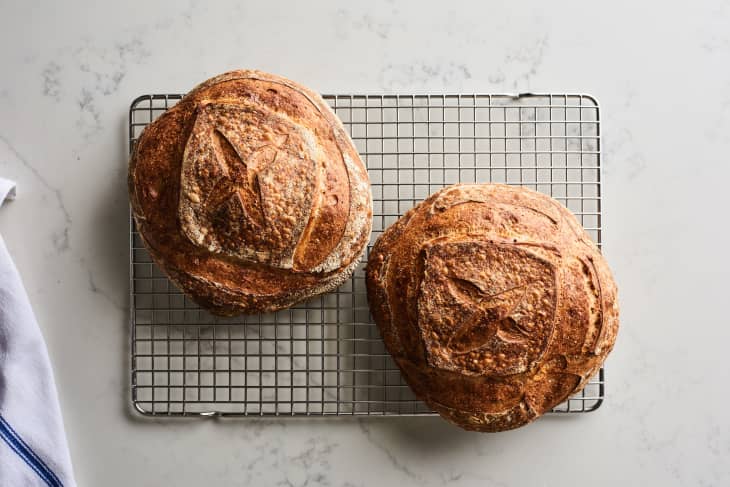 There's one undeniable fact about fall: It is meant for baking. Now, in your household, that may look like salty, sticky pecan pie, or decadent and complex olive oil cake, or matcha pumpkin spice cookies, or maybe just some good ol' crusty, steam-filled bread. After all, there's nothing better then breaking into a boule and having a cloud of flour grace the air as you munch on the chewy, springy inside and crunch on the salty, golden outside — pure heaven! And, might I add, it's the perfect way to combat the cold weather.
Follow Topics for more like this
Follow for more stories like this
Which is why, here at Kitchn, you'll find us pulling out our trusty Le Creuset Bread Ovens on the daily to achieve those primo blocks of divine gluten. In fact, after we first gave these stunners a spin earlier this year, we were left in awe. A Dutch oven does one heck of a job generating the ideal steam to heat ratio for the perfect loaf, but it didn't hold up anywhere near this baker's essential. For those of us who identify as bread bakers on the team, this is one piece of cookware we simply cannot live without. And, for those of us who don't already own one, well, Le Creuset just gave us even more incentive to get our hands on one: They just released two new, chic hues that would make a flawless edition to any kitchen.
The first new color is Sea Salt, a lustrous, versatile color that evokes sea breeze and brisk fall afternoons. The subtle ombre and variations in tone across the surface of the cookware's dome is reminiscent of waves, acting a precursor to the salty, undulating crust that will appear once the cloche is lifted. The second, Nutmeg, is contrasted, elegant, and no doubt a centerpiece in and of itself. With a bronzed top and subtle cream body, the oven does indeed resemble its namesake. Surely both new hues are as timeless as it gets, but there is no doubt in anyone's mind that these bread-making beauties would look ravishing upon a fall tablescape.
Looks aside, these handy pieces of cookware are constructed with all our favorite, classic Le Creuset elements. Aka, the Bread Ovens are crafted from superior-grade cast iron that's coated on both sides with a naturally nonstick enamel. They also feature a gorgeous hue on the exterior and a matte-black interior that will patina over time. Both the interior and exterior surfaces are unbelievably easy-to-clean and will not stick, crack, chip, or dull — no matter how many loaves they've risen and baked.
The oven has a superbly crafted, tight-fitting, domed lid that works to capture and distribute steam, resulting in a crusty loaf that's got the perfect amount of crunch. It's wide-set handles and easy-to-grip knob make maneuvering the thing ultra-easy. Oh, and before we forget, the entire piece of cookware is dishwasher-safe. (Just when we thought it couldn't get any better!)