This Celebrity-Favorite Gardening System Grows Fresh Ingredients at Home
We independently select these products—if you buy from one of our links, we may earn a commission. All prices were accurate at the time of publishing.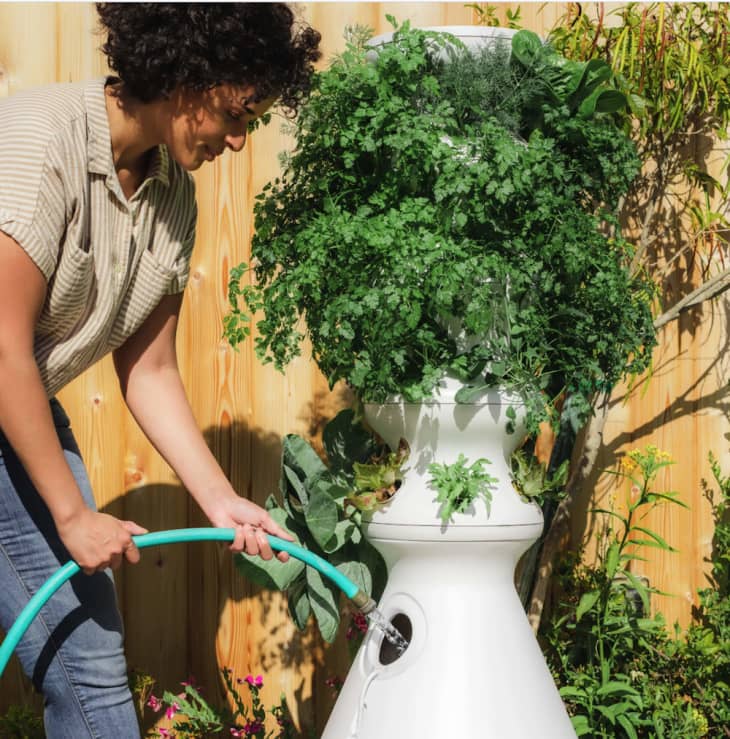 Summer days are ahead, ushering in an idle season filled with pool floats, ice cold lemonade and, most importantly, fresh ingredients. Fresh fruits, vegetables, and herbs are the star of any summertime menu — and one celebrity-favorite gardening system makes it easy to grow these ingredients at home. Seen in the homes of Zoe Saldana, Shay Mitchell, and Nash Grier, Lettuce Grow's Farmstand is a self-watering, self-fertilizing hydroponic gardening system that grows fresh vegetables and herbs year round.
Ideal for indoor and outdoor use, the Farmstand could be conquered even by the gardening deficient. As a self-watering and self-fertilizing product, all consumers need to do is add water to the reservoir and add nutrients each week, as well as test and adjust the pH levels. Available in five different size options, prices range between $348 and $649, depending on how much vegetables and herbs you would like to grow. (Additional seedlings, including a greens and herbs bundle, oregano spring tomatoes, and more, are also available to purchase on Lettuce Grow.) 
The Farmstand itself is also sleek and minimalist, blending seamlessly into surrounding kitchen decor; the product is made from ocean-bound recycled material. 
Additionally, there's a Lettuce Grow app that helps guide users through the growth cycle with alerts, reminders, and tips. The mission of Lettuce Grow, founded by actor Zooey Deschanel and her ex-husband Jacob Pechenik, is to democratize the growing of fresh foods for all and make clean, unprocessed foods accessible for everyone.
As mentioned, the Farmstand has found fans in various celebrities. Zoe Saldana was spotted grabbing some fresh basil from her sleek Farmstand for her home-cooked pizza on Instagram last month, while Shay Mitchell utilized her Farmstand for a blackened cod and spring salad recipe. 

Ready for a summer harvest? Shop: The Farmstand, Lettuce Grow, $348+