I Ditched My Lease and Lived in 13 Airbnbs Last Year. Here's What I Learned
We independently select these products—if you buy from one of our links, we may earn a commission. All prices were accurate at the time of publishing.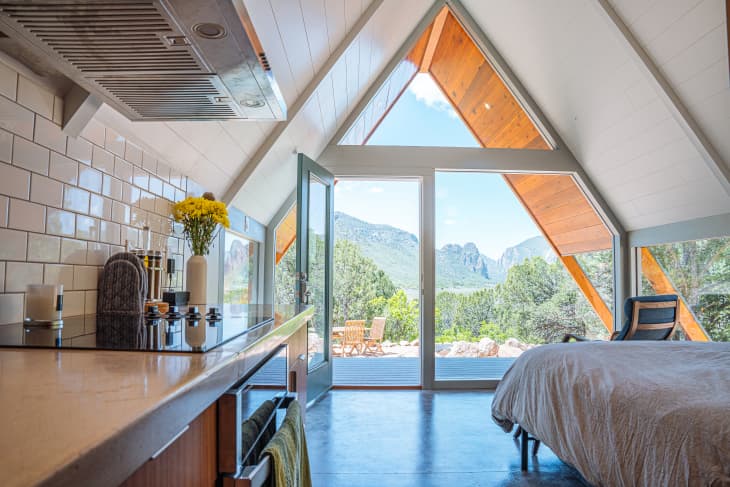 "Have fun on your year abroad!" a friend joked before I left. To be clear, I was packing up my place in Brooklyn to head to the West Coast. But for a lifelong East Coaster like me, it sure felt farther.
Follow Topics for more like this
Follow for more stories like this
After 13 years in New York City — six of them in a 300-square-foot studio at the height of the pandemic — I felt stuck. So, I did what lots of people seem to be doing lately: I broke my lease and reallocated my rent toward month-long Airbnbs. My plan was to explore the West Coast, starting in San Francisco. I'd work remotely the entire time.
Now, 13 Airbnbs later, I've slept on futons, loft beds, Murphy beds, regular beds… in studios, in-law units, shared roommate situations, and converted factories. I've lived throughout the Bay Area, Los Angeles, Seattle, Philadelphia, upstate New York, and New Jersey.
I wanted to break myself out of a pandemic rut, and I think I actually did. I stretched the boundaries of my comfort zone, befriended total strangers, and learned to operate at least six different brands of washing machines. Most of all, I gained a much deeper sense of independence.
Thinking of doing something similar? Here are my top tips from my year of Airbnb-hopping.
Scrutinize reviews. Airbnb ratings are famously inflated because guests don't want to offend hosts they've schmoozed with IRL. Remove the first digit, push back the decimal point, and judge the resulting number on a scale of 10. Thus a listing rated 4.36 becomes a 3.6/10. I tried not to book anything below a 4.9. Reviews contain hidden messages, too: "cozy" = tiny; "quaint" = outdated. Here's a useful guide that aligns with everything I learned.
Negotiate rent. The more positive reviews you accumulate from hosts, the more you'll gain leverage to ask for discounts. I tried to push myself to (politely) ask for 10 percent off, especially in the off-season. The worst a host can say is no.
Invest in a white noise machine. You can learn a lot from an Airbnb listing, but two elements will always elude you: smells and sounds. This cute, minimalist white noise machine emits 20 varieties of perfectly bland static. I used it in half of my Airbnbs (I'm a light sleeper). For weird smells, a go-to candle comes in handy, too.
Forward your mail to a friend. I knew changing my address with every move would get annoying, so I switched my mailing address to that of a very good friend's. (Thank you, Jay and Lillian!) I also set up Informed Delivery, a USPS service that emailed me scans of my mail. Most of my mail was junk (I'm guessing yours might be the same), but the service at least gave me some peace of mind.
And here are a few less practical — but just as important — pieces of advice:
Clarify your purpose. Living nomadically can be stressful and disorienting. (That's really the whole goal: to disorient yourself.) In low moments, I felt invisible, adrift, and like I'd lost the plot. In high moments, I felt truly free. To stay grounded, set an intention and remind yourself of it constantly. Mine was to learn more about how and where I wanted to live long-term. I tried to journal about it at least once a day.
Keep a journal. Record your feelings and observations, of course, plus (the fun part) anything you want to buy for your next apartment. I found my new favorite can opener, shower curtain, and single-egg frying pan — all from using them in other people's homes. You'll never get a better opportunity to pressure-test so many small yet essential items.
As I write this, I'm planning another move — back to New York City. I've finally signed a year-long lease. Maybe I'm naïve, or maybe living in Airbnbs has conditioned me to pull the trigger after scrutinizing photos and reviews alone, but I've never stepped inside this new unit. 
Will I regret it? Maybe! But if I've learned anything from the last 12 months, it's this: Everything is temporary, especially when you're renting. You're more adaptable than you know. And even if it sucks, trying out a new home is the best way to learn who you really are, and how you actually want to live.