I Spent Hours Turning My Living Room into a Classroom—and It's Never Looked Better
We independently select these products—if you buy from one of our links, we may earn a commission. All prices were accurate at the time of publishing.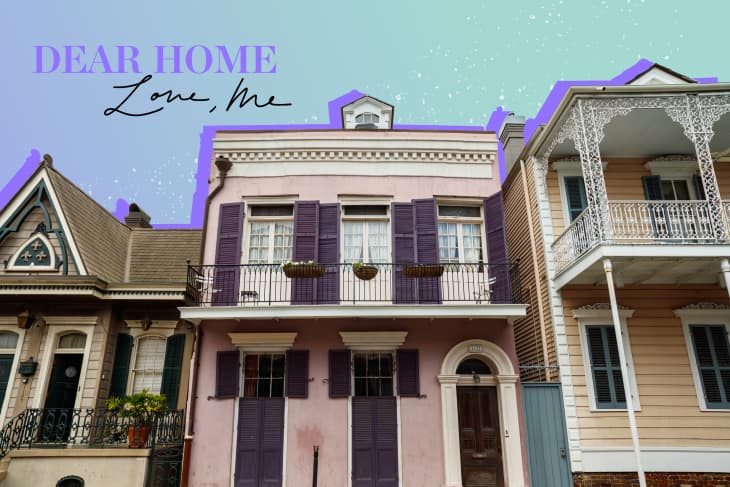 There's probably never been a calendar year where we've spent more time at home than this one. This story is part of Apartment Therapy's Love Letters to Home series, which thanks our homes for all they've done for us in 2020.

You can read more love letters here before writing one of your own.
Follow Topics for more like this
Follow for more stories like this
Dear Living Room Classroom,
First of all, WHOA! We went into this relationship casually, just thinking it would be a way to make the COVID-19 pandemic easier to bear. Then boom, we go viral and get invited to be on "TODAY" and "The Kelly Clarkson Show." We were even interviewed for Loyola University's Maroon, featured on the Love What Matters page, and appeared in Newsweek! Looking back, I should have known you were special from the start.
Before we became a thing, I spent an afternoon shopping at Dollar Tree and a teacher supply store in Louisiana called the Educator.

A lady next to me at the Educator looked at my pile of classroom materials and asked, "So I guess y'all are starting back in-person too, yeah? Or y'all doing that hybrid thing?" I told her I was just doing a living room classroom for my kid who was starting virtual first grade in a few days. She nervously chuckled, then looked confused and shocked, as if I said I was going fishing in the Red Lobster tank.
When I came home that day with all the educational posters and foam stickies, you were all, "Hol' up! Franklin is only 6 and he already has a desk in here! How long will distance learning even last?! And how, pray tell, are you finna get your mack on with a photo gallery of Black history figures staring you down from the staircase?"
And I was all, "Shut up, it's a whole pandemic outchea and you driving me right now!" 
We stayed up all night, trying to make everything perfect. It took hours, about eight fairly solid hours, covering you in sticky tabs and colorful posters. My grandfather was surely rolling in his grave, looking down and seeing his living room like this. I worked so hard that the next day I wondered if I'd actually caught Covid, as I was exhausted and achy. 
Meeting the parents is huge in relationships, but meeting the kids? The scariest! They are so honest. I knew Franklin would like you, but he also isn't big on change. You went from the TV-and-huge-dumped-boxes-of-toys-and-LEGO-and-junk-creations-room to a whole classroom.
He'd spent the night out with his dad, who was also shocked by the photos I'd texted him. I couldn't wait 'til Franklin got back home the next morning so I could show him.

"Mommy has a surpriiiise for yooou! OK, now close your eyes."
"I love surprises! I hope it's candy…"

"It's not candy, but I think you'll think it's pretty cool. Now OPEN THEM!"
His eyes washed over the posters behind the sofa, the Black history wall of fame by the staircase, the cool-down corner with the social emotional learning posters. He read some things by himself and asked me to read some to him.
"So do you like it?!"

"Yes, Mommy! Thank you! And I love my Black people wall! And my planets beep boop beep boop I'm an alieeen."
From my office I'll hear Franklin reading posters; when he's walking upstairs he'll read Black history facts to me. When that happens, I feel like I've made the right choice for us.
Virtual school only lasted for a month—so far—and I honestly think I could have been fine without you, Living Room Classroom. But like in Jill Scott's "The Fact Is (I Need You)," I know you've made my son's and my life better. "And even though I can do all these things by my damn self… I need you… We need you."