This Might Be the One Spot in Your Living Room That You Haven't Considered for an Office Nook
We independently select these products—if you buy from one of our links, we may earn a commission. All prices were accurate at the time of publishing.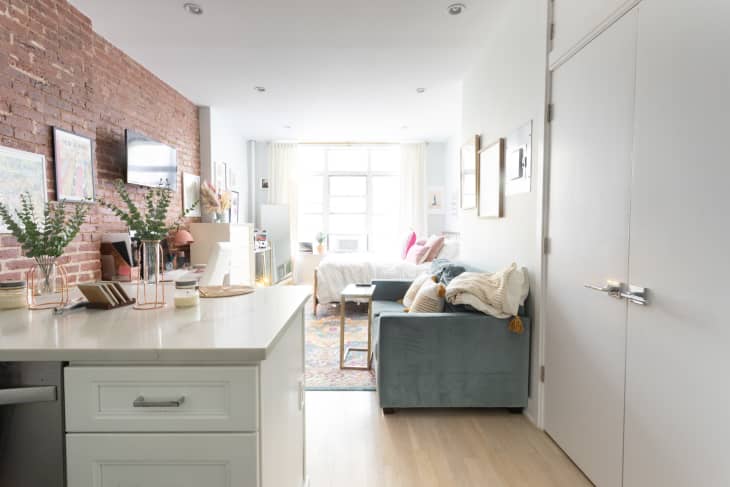 Living in a studio apartment comes with unique challenges, but creative small-space dwellers certainly come up with smart solutions to solve those problems. If you're stuck on how to incorporate a desk into your tiny apartment, your living room just might be the best destination for a work-from-home setup (and spoiler alert: I'm not talking about putting a desk under a window or using the console table behind your sofa). This idea utilizes a spot that most people have but typically use for entertainment, and it's one of the better uses of floor space I've seen lately. 
Laura Mullaney lives in a 250-square-foot studio apartment on the Upper East Side of Manhattan. While her home is pretty small, it's full of art, fun personal touches, and a light, bright palette that feels clean and airy. "I think bohemian is the primary style here," Mullaney says in her house tour, and she isn't afraid to lean into more unconventional decorating choices if they work for her lifestyle. 
After moving into her apartment, Mullaney leaned heavily on Tiktok and Apartment Therapy for design inspiration. "I actually saw a TikTok of someone's apartment whose studio layout was super-similar, so that helped me figure out how to set mine up," she says. The best trick she may have borrowed from the app? Forgoing a media console underneath her TV in the living area portion of her place — and parking a desk with an office chair there instead.
As the public relations manager for The Public Theater, Mullaney needed a functional nook for taking calls, returning emails, and getting her work done. As a studio dweller, she didn't have an extra bedroom — or even a spare closet — to put her desk. So she really had to get creative by making this simple swap of a lower media console for a Parsons-style desk. Although a desk is much taller than a traditional low-slung media cabinet, Mullaney was able to work her tall ceilings to cheat the television placement up a little higher than it would typically be mounted. To finish off the area, she styled the nook with a simple Amazon office chair and a glam pink and gold Crate & Barrel lamp, both of which play well with the colors and furnishings in the rest of her space. 
As far as layout advice goes, Mullaney suggests drawing out your setup in as much detail as possible, using exact measurements for accuracy. "Plan EVERYTHING out in advance," she says. "Decide what you really and truly need, Mullaney says. "I've learned I can seriously live with less."