I Moved In With 5 Strangers—Here's Why I Miss It Every Day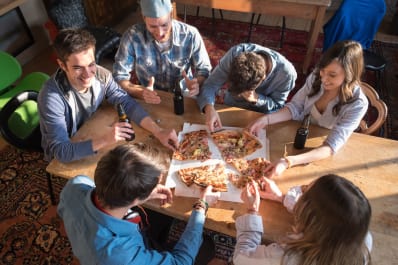 (Image credit: HEX./Stocksy)
I move a lot. Because of the nature of my job (freelance writer), I was in five countries over three continents this month. I have to pack, unpack, and move rooms every few days. When I'm on an assignment, I usually stay in a hotel. When I'm not, I often stay with my sweet, accommodating partner who has rearranged his entire bedroom to create a writing nook for me. But even he knows what I long for. It's not a hotel or a nice apartment with designer furniture.
My dream home was on Hope Street in Williamsburg, Brooklyn, in an apartment I shared with five roommates one fall. Though I moved out only a season after I moved in (I got a job that required me to relocate), I miss it every day. My boyfriend will still snap a photo of my old building and send it to me when he walks past it; he knows it makes me smile in an instant. Basically, living with the five roommates—Maddy, Tommy, Amy, Harrison, and Julian—made me feel like I had crowdsourced my life to a bunch of people who were experts in things I was still learning to be good at, and that made all the difference. And though it may sound like a total nightmare to some people, it was actually the best living situation I've had in my entire life. Here's why:
1. I got an amazing room for a great price
At 24, I had just given up a small studio in Paris to come to New York. I found my home in Williamsburg, Brooklyn, by some stroke of luck. It was from an online ad for a room with no mention of roommates, furniture, or the view. The resident I'd be subletting from was gone for an indefinite period of time. He could end up returning to his room two weeks or two months after I moved in. "DM me your dates," the ad directed. I thought this uncertainty was a good match for my predicament, and I went to check it out two days later.

I know there are more than enough stories of real estate cat-fishing, especially in New York City. Too-good-to-be-true apartments are actually run down, closet-sized rooms if they exist at all. But I was so lucky to find out this apartment was all that was advertised—and more. The room was part of a six-room duplex in an apartment complex with a huge rooftop and a gym. The duplex had two living rooms, a washer, a dryer, a dishwasher, and five roommates. The room I'd be staying in had floor-to-ceiling windows, an extra high ceiling, and a huge courtyard—with flower beds, lawn chairs, and a grill—that I could access from my own private entrance! The best part? It was only $1,200 a month, which I thought was pretty awesome for the amenities and location.
So I moved in, and immediately fell in love with the space. Every morning, to sample the weather, I'd take a step outside in my pajamas and look towards the sun. It was bliss.
2. There was always support around if I needed it.
Trust that New York will throw you some hard punches immediately. In a matter of months, I was going through a breakup, a job I had lined up decided they didn't need the position before I even started, and a dear friend passed away unexpectedly.
But instead of having to go through this alone, I had people around me ready to give me support when I needed it. In general, I think people who chose the communal living lifestyle are generally more outgoing and empathetic than those who choose standard living situations. So instead of leaving me in my room to pore over old messages, photos, and things my friend left behind, my roommates were always asking me if I wanted to do something with them. They asked me if I wanted to grab food, do a session of yoga on our rooftop, or go for a run with the house dog, Blanquita. My roommates noticed my deep hole of grief and would wander into it with me. And when they weren't around, there was always Blanquita who always had love to give!
I was so thankful for my living situation that every day, in my Panda Planner under the right-hand side box of "Things I'm Grateful for," I always wrote "My roommates <3"
3. I ate better
I am an instant noodle kind of girl. My meals are cheap, quick, and easy to clean up. But living with four other roommates—three that worked in the food space—taught me so much about food. I lived with Amy, a nutritionist from California; Julian, a German chef; and Harrison, a vegan waiter who had just come back after eight years in the Caribbean. Thus, our communal meals were absolutely luxurious. But by sharing time and resources, I could have this little luxury of gourmet cuisine in my own home, even if I didn't know how to cook that well myself. Julian would cook some amazing salt crusted pork or gourmet herbed sauerkraut, and he'd tell us stories about how different religions sliced their pigs differently as we ate. I would've never been able to afford such delicacies myself, or even if I had lived with just one other roommate.
4. I met people more easily
My roommates always had people over and I was welcome to hang with them, so I got to make new friends in the comfort of my own home. Each of my roommates had their own social circle and friends, so one day we'd have a consultant over, the next day, a rock singer and then the following day, a yogi from Israel, who led us through a session of yoga on our roof. It was always fun to see who would be sitting at my kitchen when I got home, and I never felt lonely even though the city was new to me.