7 Things You Can Do With Far-Away Friends That Don't Involve Screens
We independently select these products—if you buy from one of our links, we may earn a commission. All prices were accurate at the time of publishing.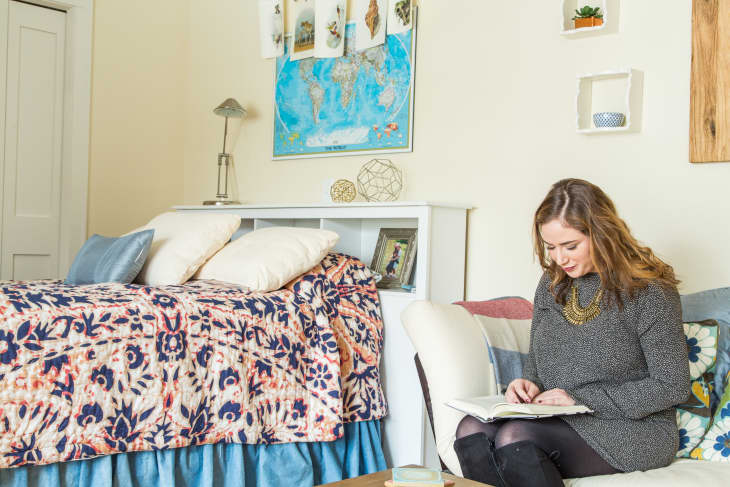 Here's a scenario I would bet that you, too, have been through at some point during the past four months: Your friends suggest doing a group video call or virtual board game session. You say, "Sure!" …and then you find yourself dreading or avoiding it again and again… and again. It's not that you don't love your friends or want to see them (of course you do!). But sometimes you just don't feel like going through the back-and-forth—"Can you hear me? Is this connection working? Wait, no, no, it's OK, you talk first"—that pretty much every virtual hangout comes with these days. It can be fun, but it can also be exhausting.

If you've reached the point where you're looking to connect with long-distance friends safely in a way that is a little more creative, then I've got you covered. Here are seven ideas that you can implement with your friend group to stay connected even from afar.
Follow Topics for more like this
Follow for more stories like this
Some of these ideas might require you to get outside of your comfort zone a little bit, but it will be so worth it. And most of these ideas are more brain-stimulating than any awkward Zoom happy hour. So next time someone says, "FaceTime?" and you just don't wanna, why not suggest one of the below ideas instead? It just might make everyone happy (and a little less bored, too). 
Do you have a recipe you love? Your friends probably do, too. So start a recipe chain! Kick it off by sending (yes, through the mail) a handwritten recipe you love, along with any helpful tips, tricks, and notes (feel free to include any fun anecdotes about the recipe, too). Instruct whoever you send it to try making the recipe themselves. Once they've done that, they can send your recipe and a new one they'd like to include to another person. Once the recipe chain has reached your entire friend group, the final person can mail it back to you. And just like that, you have a pretty darn memorable cookbook.
2. Try Writing Letters (No, Not Emails) 
If you feel like you're spending more time sending emails than ever (*raises hand*), then try writing correspondences with friends in a different way. There's something nostalgic and romantic about writing letters during a historic time. And in case you haven't noticed, we are living in a pretty historic time. So pour yourself a nice cup of coffee or tea, turn on some relaxing music, and write (by hand!) a letter to a close friend. 
3. Exchange Surprise Deliveries 
Once a month, make a point with a group of friends to choose names out of a (virtual) hat and send care packages to each other. Deliveries are so exciting these days, and this will be extra special. You can include handwritten letters, handmade goodies, treats, photos, or anything else you want that you know will make a friend's day!
4. Create a Traveling Scrapbook 
If you've ever wanted to create a scrapbook and never had the time, well… now's the time. As a fun activity, buy a book and fill a few pages with your favorite memories that you have of you and your best friends. Then, send it to a friend and have them add their favorite memories, and so on and so forth. Odds are you'll end up with an incredibly special keepsake that you'll all cherish. 
This one sort of involves a screen—but not really. Stop the texting and DMing and send people voice memos. It feels like more of a "face-to-face" connection than texting but doesn't require as much time or energy as a video call or virtual hang-out. Plus, you don't even have to look at a screen while you do it. 
6. Try a Long-Term Challenge
Try setting up a challenge with your friends that will last until the end of this year (or the end of the summer—whatever works). Maybe you all want to learn another language, so why not see who can become the most fluent speaker by the end of the challenge? Maybe you're all really into running, so see who can run the fastest mile by a month's end. Whatever it is, make it something your entire friend group enjoys and create a fun prize for the winner.
7. Save for a Future Trip Together 
You've probably talked about going on a friend trip, but never made the time to plan for it, financially or otherwise. So consider taking this time to come up with a group strategy for saving money for a future friends trip. Maybe decide you'll all give up fancy coffee shop lattes and instead save the money for a girl's trip for a year. Whatever it is, discuss, decide on, and track it together. Every time you save another $1, it'll remind you of a day when you can see your friends again.