The Stylish Solution That Got My Scarves Organized (and Off the Floor) for Good
We independently select these products—if you buy from one of our links, we may earn a commission. All prices were accurate at the time of publishing.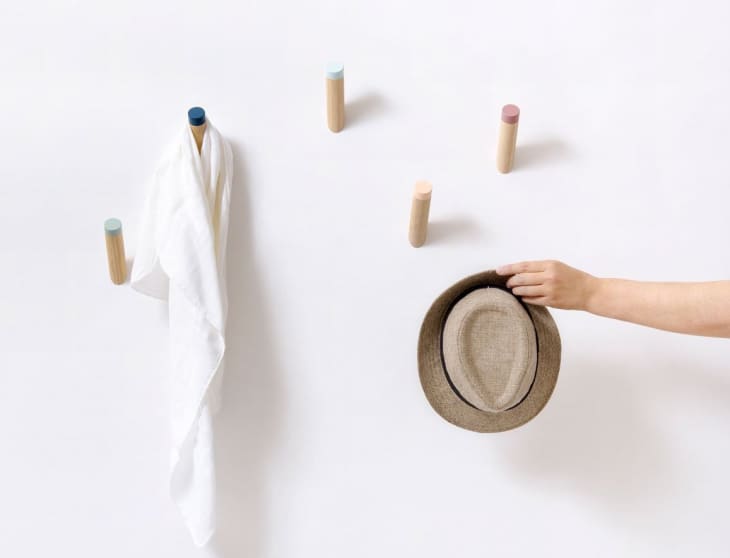 When it comes to organizing my closet, I'm nearly a pro. Everything has a place, clothes are arranged by style (and sometimes sleeve length), and I know where to find what I'm looking for when I have an idea for an outfit. My accessories, however, haven't been quite as fortunate. My hats, scarves, and belts kind of end up wherever I see empty space, and lately, that's meant a pile on the floor. (A hidden corner of the floor, but the floor nonetheless.) I decided I needed to do better. Loop Living gave me a chance to try out their set of sleek and sturdy wall hooks, and little did they know, it was a huge help in getting my scarves off of the floor for good.
Follow Topics for more like this
Follow for more stories like this
When I was introduced to the wall hooks from Loop Living, it was love at first sight. I tend to gravitate towards light natural shades of wood, it's all over my apartment from my TV stand to my coffee table and even my work desk! I also like pops of color. These wall hooks are a combination of two features I already love, so it was a no-brainer that I had to incorporate them into my decor somehow. The wall hooks come in seven different colors, and Loop Living graciously gives you the opportunity to choose exactly what you want. I went with "One in Each Color" and ended up with a set of hooks in navy, white, peach, rose, and light blue.
The wall hooks are made of oak, and are considerably lightweight and strong. I had no doubt that once I hung them up on the wall, I'd be able to hang all sorts of items without causing damage. That said, it's important to ensure that the hooks are being secured to a stud in the wall. Loop Living makes a point to remind you to do that, but it's worth mentioning again. Each hook has an angled base, and when mounted to the wall, they tilt upwards like a tree branch. I personally love the design because it operates like a traditional hook but doesn't look like one. It's a stylish alternative!
Having a set of five of these wall hooks provides flexibility when it comes to arranging them. You certainly don't have to put all five of them together. You could even put one in a different room if you so choose! I like the look of having all of my wall hooks in a row, primarily because it makes my fashion accessories look fabulous. My scarves haven't had a proper home in years, often ending up in a messy heap on the floor. Now, I can hang them up and actually access them so much easier. I'm a firm believer in taking advantage of wall space for home organization, and when I find products like Loop Living's wall hooks, it makes me incredibly happy! They're simple to install, they're super stylish, and with so many colors available, you can match them to any decor. Even ordering an individual wall hook is under $20, so you can mix and match them all over the house without breaking the bank. Your accessories will thank you!