3 Low-Cost, High-Impact Ways Real Estate Agents Revamp a Space
We independently select these products—if you buy from one of our links, we may earn a commission. All prices were accurate at the time of publishing.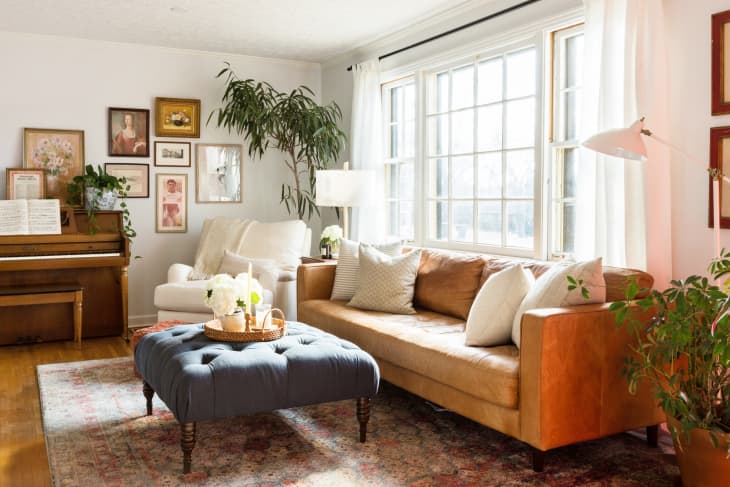 When the New Year arrives, I can never help but look around and think: What if I made over my entire living space? There's just something about a new digit at the end of the date that makes me want to shuffle around every piece of furniture in my apartment and buy a gallon of paint. 
Follow Topics for more like this
Follow for more stories like this
But alas, there's not always the time or money for a personal "Extreme Makeover Home Edition," and my downstairs neighbors would never forgive me if I rearranged my entire apartment once again. Instead, I asked real estate agents who know how to refresh a home quickly for their top tips on how they zhuzh up a space on a budget. Whether you're listing your house, settling into a new home, or just itching to spruce up your current digs, here's what they say to do. 
Winter cleaning isn't just spring cleaning's colder cousin — it's a surefire way to overhaul your space. Queue up your favorite playlist and banish that which no longer serves you, like those very long CVS receipts and that 2021 wall calendar. 
"The first and most important steps are removing clutter and deep cleaning," says Dana Bull, a Realtor with Sagan Harborside Sotheby's International Realty. "Don't even think about doing anything else until you tackle the basics." 
For those preparing to list their home for sale, she emphasizes the accuracy of the less is more mantra. "If you're trying to position your space to sell, you want to minimize furniture. Home stagers tend to use less furniture and less bulky furniture to make a space feel lighter. I'm always shocked by how much my stagers remove from homes," she says.
"I've never met a space that didn't benefit from fresh plants or flowers," declares Bull. "Just don't go overboard." Aside from the simple fact of being pretty, Chicago-based Compass agent Alicia Arredondo says tasteful houseplants have the power to send a subliminal message. "Having plants signifies that there's light in the house. People tend to look for bright, open spaces and a plant can draw attention to light in the room," she says. As for placement, she suggests scattering them around on shelves "to create texture and layers" and, if budget allows, investing in one large plant to breathe life into a living room corner.
The transformative power of a coat of paint is no secret. But, all those pints and brushes can add up, and coating a whole room is a huge commitment. Instead, Arredondo advises going down to your local hardware store and buying a $10 can of spray paint. "There's spray paint specifically for metal surfaces and they are such a game changer," she says. "You can spray every single fixture in your kitchen. If you have silver hardware you can quickly and cheaply spray paint it gold or bronze and it totally changes the look."
Other metal furnishings, like bed or desk frames, also make great spray paint projects. "We're living in a world where we're trying to figure out how to re-breathe life into things rather than throw them out, and this is a really nice way of doing it," she says. "If you have a perfectly good sconce but it doesn't match, rather than throwing it away or replacing it, you can just spray paint it."