The New Mini Saucepan From This Editor-Favorite Cookware Brand Is the Ultimate Addition to My Tiny Kitchen
We
independently
select these products—if you buy from one of our links, we may earn a commission. All prices were accurate at the time of publishing.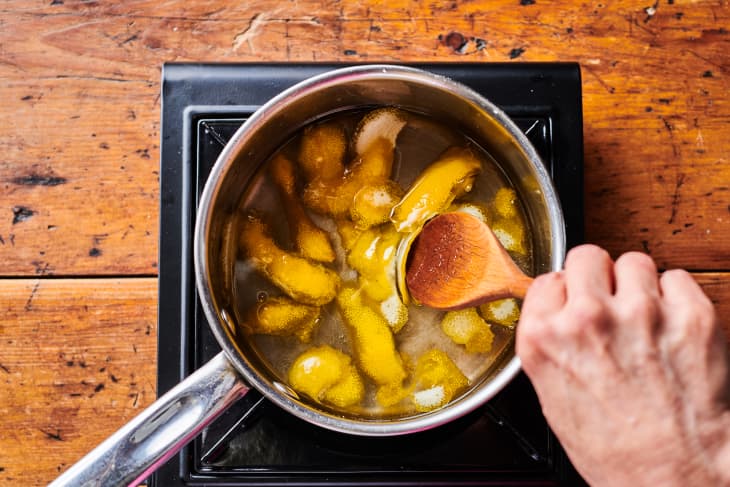 If you have a kitchen full of large Dutch ovens, 12-inch cast-iron skillets, and professional-grade grill pans, you might not see a reason to invest in what's essentially a miniature version of a high-walled saucepan. Admittedly, I was right there with you, since my favorite dishes usually involve big enameled braisers or wide sauté pans. However, I'm here to walk that back and tell you that while you might not use a small saucepan for every meal you cook, it comes in handy way more than you'd think. The only thing you really need to worry about is the quality of your small saucepan — too light, and it might be unbalanced on your stove; too thin, and it might not distribute heat evenly. Luckily, I recently stumbled across a small-format piece of cookware that I can give a full-throated recommendation: Made In's 1-quart Saucepan, which not only looks great, but cooks great, too. 
Of course, before we get into any specifics, let's take a second to admire the sheer beauty of this thing. It's sleek and low-profile, and looks straight out of a professional kitchen. However, it'd much more than a looker — I've found that it's excellent at heating up bouillon base mixed with water; warming up stock and soups; toasting spices and bread; reheating food without using a microwave; making eggs for one; baking single-serve desserts; searing a single chicken breast, pork chop, or steak; cooking tortillas; and a slew of other kitchen tasks. (That was a lot, I know.) It also has a lid, so you can make rice in it, quickly blanch veggies, and boil eggs.
Because it's so small and takes up virtually no space on your shelf or in your cabinets, the saucepan ideal for a tiny apartment or a one-person household. It also feels a lot bigger than it is, thanks to its long, easy-to-grip handle. (Plus, the long handle gives you extra leverage to use it as a meat tenderizer in a pinch.) I've also used it to make homemade jam and infused simple syrups for my home bar — all of which is made exponentially easier by the small size, because I can better control the heat and consistency, and cleanup is a breeze once I'm done. 
In terms of features, this sucker has a ton. It features 360-degree cladding for even heating no matter what you're whipping up, five-ply stainless-steel construction, a proprietary stay-cool handle, and is both induction-compatible and oven-safe up to 800 degrees Fahrenheit. (Chances are, your oven doesn't even go that high.) My favorite part? The rolled rim, which allows me to easily pour sauces, syrups, and stocks without spilling. 
And, with the holiday season in full swing — and dinner party season right around the corner — there's no better time to have a small pan that can double as a sous chef in your arsenal. Christmas turkey in the oven, but you forgot to heat up the gravy? No sweat. Stove cluttered with large pans, and the only space left is one the tiny simmer burner in the back-left corner? Easy; it's a perfect fit. While this won't be the piece of cookware you reach for the most, if you're looking for the perfect addition to your already stocked lineup of pots and pans, look no further.