This Is Your Last Chance to Snag Made In's Super-Popular Carbon Steel Fry Pan
We
independently
select these products—if you buy from one of our links, we may earn a commission. All prices were accurate at the time of publishing.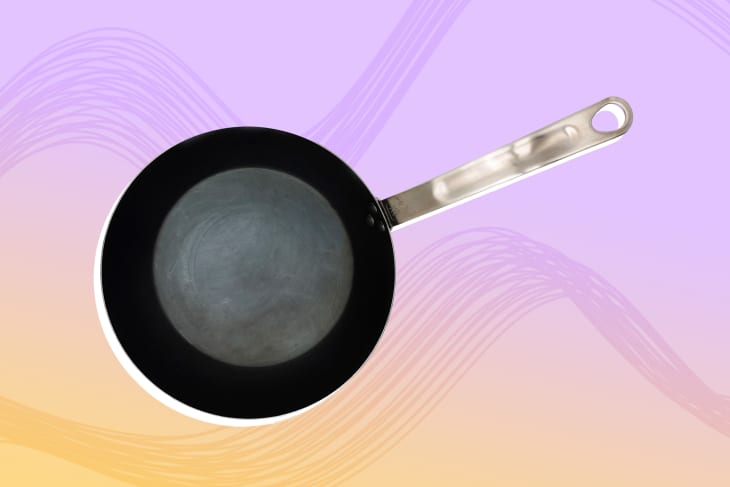 When a product is so above-and-beyond good it perpetually sells out of its inventory, you know the brand is onto something. Made In has developed a reputation for incredible cookware and bakeware that brings home chefs much closer to a professional level (pros have attested to this, and stock Made In in their own kitchens). Every piece they release sells with remarkable speed and returns impressive reviews, but their carbon steel lineup is in a league of its own, with seasoned woks and frying pans that continuously sell out and amass waitlists. 
The thrilling news for food lovers and home cooks who have yet to snag one of these coveted tools is that a small (and apparently final) stock has arrived, so you have a limited time to grab one for your kitchen before they disappear, perhaps for good (though we have to hope that Made In will eventually revive the line).
The signature blue carbon steel frying pan — touted as an ideal blend between a cast iron skillet and a stainless steel pan — is truly a professional-grade tool. Carbon steel has long been the material of choice for high-end chefs and Made In has brought it to the amateur field and price range, with pans that cost between $85 and $109 each — a very reasonable price if you consider some of the steep price tags for "professional kitchen pans" out there. 
Their pre-seasoned offerings are their most in-demand choice, selling out in days every time they return, with this go-around being no exception. Some sizes have already been snatched up yet again, but there's still time to get your hands on a 10-inch seasoned carbon steel pan, a can't-miss for anything you want to cook at home, from stunningly-seared chicken to perfect fried eggs.
The line also includes the brand's extremely popular carbon steel woks, with the same high-heat dynamic performance as the rest of the lineup, plus the easy moveability you look for in a wok. A highly versatile tool, these woks shine for more than the stir-fries and noodle dishes you picture — they're also equipped to braise, fry, steam, and do just about anything else your creative mind can dream up. The pre-seasoned style of these pans that returned this week were already snatched up (yes, they're that beloved!), but you can still get the traditional (and just as excellent) version for $99. 
For those eager to grab a seasoned frying pan before it's too late, don't hesitate; they're sure to sell out in record time. If you do miss your chance, rest assure that Made In's other offerings are just as dynamic and beloved — you really can't go wrong.