I Use This Super-Popular Nonstick Pan to Cook Every Sticky Egg Dish Imaginable — Without Any Mess
We independently select these products—if you buy from one of our links, we may earn a commission. All prices were accurate at the time of publishing.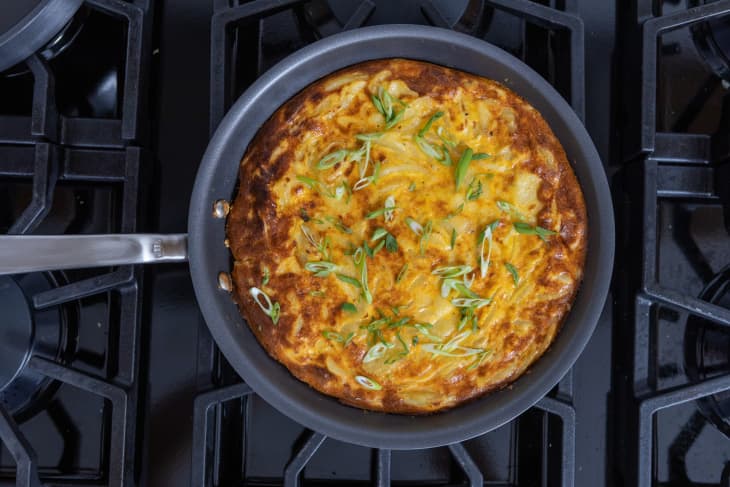 Fact: A good nonstick pan is hard to find. Over the years, I've gone through a lot of frying pans that claim to be nonstick, but after testing, they really just don't hold up. In fact, they make post-meal cleanup even more laborious, since some nonstick coatings require extra care when hand-washing to prevent scratches. About a year ago, however, one frying pan arrived at my doorstep and immediately stood out from the pack.
Follow Topics for more like this
Follow for more stories like this
Enter: Made In's Non Stick Frying Pan. Straight from the box, this Italian-made cobalt blue pan just looked gorgeous and felt super comfortable and lightweight in my hands. Crafted with a long, sturdy, riveted handle, this pan immediately made me feel confident. I was excited to test out this bad boy. Who wants eggs? Breakfast for dinner!
Using non-toxic pans is important to me, since, you know, no one likes to unintentionally ingest chemicals while cooking. For that reason, I'll point out that this pan is made with a PFOA-free coating. Its nonstick surface is seriously slippery. Coated multiple times to be extra durable and resistant to degradation, this pan is my go-to for making any sticky egg dish, sautéed mushrooms and peppers, or delicate fish. Weekend clear-out-the-fridge omelettes and frittatas? The eggs slide right out. Seared salmon filets? No skin stuck to the bottom of the pan. I don't even need to add cooking oil for most things I make in this pan, unless I want to add a bit of flavor or fat. I'm not alone in my love for this pan, either.
It's no secret that I'm a big fan of Made In, and this Non Stick Frying Pan is, in my opinion, one of the best representations of the brand's top-quality cookware. If you're sick of tearing through nonstick pans that don't actually work, this pan will change your mind. At under-$100 for the 10-inch option, this is a wise investment for any home cook.
Psst… it also makes a great kitchen gift for the holidays ahead. Make an omelette this weekend and then we'll compare notes.