This Super-Popular Pan Is Finally Back in Stock (for Now!) Just in Time for Summer Cooking
We independently select these products—if you buy from one of our links, we may earn a commission. All prices were accurate at the time of publishing.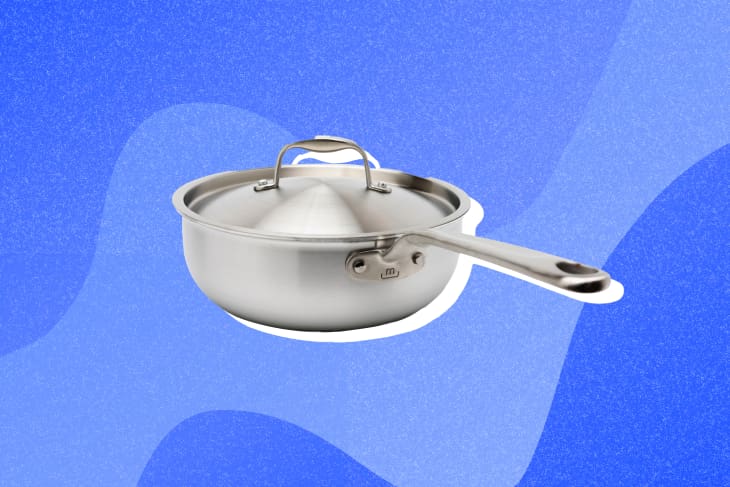 You don't have to be a pro chef to know that having the right equipment makes cooking a lot easier, quicker and more joyful. And when it comes to making dishes like sauces, stocks, and soups, a saucier is a must-have. For those unfamiliar with this clever piece of cookware, it's essentially a rounded saucepan with a wider mouth, flared walls, and rolled lips. A saucier can do everything a conventional saucepan can do but with the added ability to make tasks like stirring and whisking even easier. And when it comes to buying a saucier, the Made In Stainless Clad Saucier is a fantastic option. In fact, it's so popular that it consistently sells out on the retailer's website. Well, we're happy to report that it's finally back in stock — for now, that is.
Priced at $109, Made In's three-quart saucier is a true kitchen essential. "If I had to choose between a saucier and a saucepan, I'd choose a saucier," says Riddley, Kitchn's tools editor. "Corner-free and with flared sides, a saucier is a dream to stir in, as a spatula glides around its sides." Plus, the rounded bottom means you don't have to worry about your Bolognese getting stuck in the corners, or struggling to whisk sauces directly in the pan.
And just like Made In's popular cookware collection, this saucier is built to last! It's constructed using top-notch five-ply stainless steel "which is is a very good heat conductor, which means you'll get even, golden browning," notes Riddley. So, whatever dish you're whipping up will cook evenly from the pan's base up through the sides, without any hot spots scorching your eats. The saucier is also compatible with most stovetops, including induction heat surfaces, thanks to the 403 stainless steel that covers the bottom layer of the pan. And if your dish needs to go in the oven, this cookware is oven safe up to 800 degrees Fahrenheit.
When it comes to using your saucier, it's an impressively versatile piece. You can use it to cook anything a saucepan can, including pastas, sauces, stews, boiled potatoes, or even braised meats and vegetables, all while giving you the added flexibility of building up sauces and whisking ingredients with ease.
Currently, the saucier is in stock and ready to ship to your doorstep just in time to kick off summer cooking season. So if your to-do list includes dishes like chilled soups, freshly made sauces, creamy custards, fruit-packed oatmeal, or even soft polenta, Made In's Stainless Clad Saucier is a true must-have. Get yours now before they sell out … again.