Madonna Offered to Sublet Her NYC Apartment to Harry and Meghan Because Canada is "Boring"
We independently select these products—if you buy from one of our links, we may earn a commission. All prices were accurate at the time of publishing.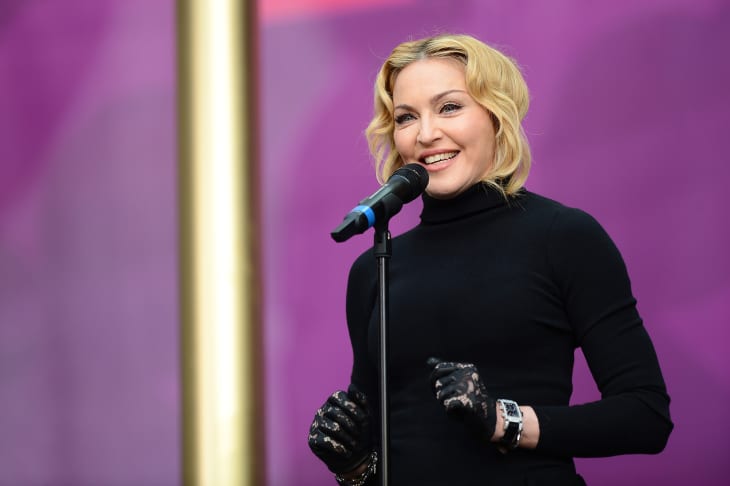 You've probably heard by now that Prince Harry and Meghan Markle have moved to Canada. But Madonna is trying to get them stateside—so she offered up her NYC apartment to convince them (jokingly…but maybe not?).  
Follow Topics for more like this
Follow for more stories like this
Earlier today, Madonna posted a video message for the couple as she was getting her makeup done. She started with "Don't run off to Canada, it's so boring there," then paused and pumped her arms before saying "I'll let them sublet my apartment in Central Park West." Whether or not the iconic singer is serious, we're truly hoping Meghan and Harry see it, because that's an offer that few would turn down. 
Madonna then goes on to describe the apartment, saying it's got two bedrooms, a balcony, and "the best view of Manhattan." She thinks it's going to be a done deal, especially because "Buckingham Palace has got nothing on CPW [Central Park West]." To this, the person filming laughs and confidently mentions that the view is much better, to which Madonna responds "that's for sure, a bunch of guys in wooly hats." 
While this message is most likely meant to be a joke, the video is charming. The singer is currently on tour, which explains the makeup and hashtags on the caption, and for her to take the time to post about Meghan and Harry's recent lifestyle change is…thoughtful?
And with a multi-million dollar apartment on the line, we wouldn't be surprised if she received some sort of response.