10 Ways to Make a Big Bedroom Feel Cozy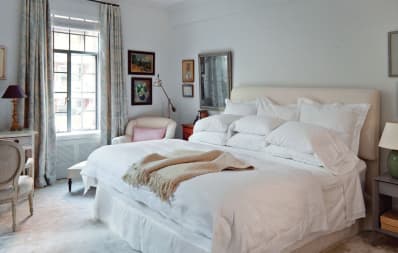 (Image credit: Trevor Tondro)
Here at Apartment Therapy, we spend a lot of time talking about small spaces. We've written a lot about how to deal with a small bedroom, but what if you have the opposite problem? A giant, cavernous space can feel just as oppressive as a tiny, cramped one. With that in mind, we've rounded up some ideas (and beautiful inspiration photos) for making your big bedroom feel cozy.
Above: a big fluff comforter (and a cozy chair) will go a long way towards making a big space feel homey.
An oversized headboard makes a big statement... and makes a room feel fuller without being overcrowded.
Dark colors are good for making larger spaces feel more manageable. This room feels cozy, and not dark, thanks to good lighting and white and jewel-toned accents.
Wallpaper (especially a paper with a delicate pattern like this one) is another great way to make a large space feel smaller.
The low-hung art in this bedroom helps to visually lower a tall ceiling.
Pulling the bed away from the wall is a great way to fill a large bedroom — and focus a lot of dramatic attention on the bed, which is really the main event anyway. Here, an oversized chest serves as a headboard and a little extra storage all in one.
Make a big room feel cozier with thick rugs and lots of layered textiles.
A sitting area in your bedroom is a nice way to relax before bed — and a nice way to fill up a little extra space.
If you don't mind working in the bedroom, adding a desk at the foot of your bed is a great way to fill a little extra space.
How cozy (and elegant) is this ceiling-hung canopy? Perfect for a big bedroom — or any bedroom.