I Started Making the Next Day's To-Do List Each Night — Here Are 7 Reasons I'm Not Going Back
We independently select these products—if you buy from one of our links, we may earn a commission. All prices were accurate at the time of publishing.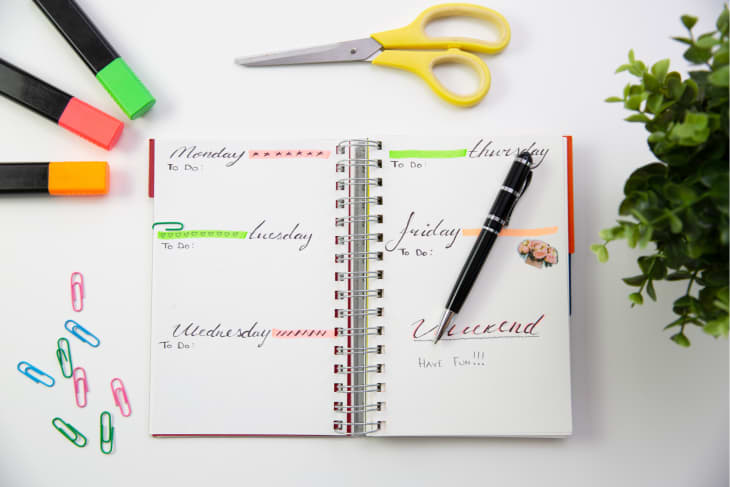 I've always made lists, whether they be gratitude, grocery, or to-do lists. For many years I thought the best way to maximize productivity meant making a to-do list first thing in the morning, but this method didn't always work. An unexpected errand, like a flat tire or a work emergency, would often mess with the entire day, and my intentions to pen a to-do list would be invariably derailed. Instead, I'd jot a few tasks on random pieces of paper and because these notes to myself occurred midday, I would rarely have the opportunity to cross out a single to-do or errand. Not maximizing my to-do list to its fullest potential morphed into a source of irritation and I needed to make a change.
Follow Topics for more like this
Follow for more stories like this
So instead, I started composing the next day's to-do list at night. It has impacted my productivity, efficiency, and self-worth in a positive way.
Here are seven ways making a to-do list at night has improved my life: 
The unexpected doesn't interfere with my to-do list.
Since I compose my to-do list the night before, even if I have something unexpected arise in the morning, it doesn't prevent me from moving through what I need to accomplish. I am able to quickly glance at my to-do list and find pockets of time to complete my tasks — which is especially helpful given how the act of simply crossing off a single completed chore can help a person move on to the next task, both physically and mentally.  
Thinking ahead the night before also proves for an easy solution when emergencies spring up early in the morning, as they often do. In the past, I'd be so focused on my morning task that I wouldn't even attempt to draft a to-do list for the rest of the day. As a result, I'd spend the next few hours attempting to finish my tasks, and by the evening I felt overwhelmed with my lack of productivity. 
Now, I don't let the unexpected take over my entire day. By planning the night ahead, I am less likely to become derailed by the unplanned errand, flurry of emails, or a call from the school letting me know that my daughter needs to be picked up. 
Writing my to-do list at night leads to better sleep.
In the past, I'd take my lingering lack of productivity into my evening and night routine. If I experienced a string of days where I felt like I hadn't accomplished a single task, the  worry and anxiety I felt at night would increase. I'd say to myself, "I'm falling behind." 
Writing a to-do list at night helped to alleviate some of my irritation and restlessness. This feeling led to better sleep. A small 2018 study found that spending five minutes at bedtime writing a to-do list for the next day could facilitate falling asleep faster than the other activity the study participants did — spending five minutes journaling about tasks they'd completed.
I'm more likely to tackle my hardest task first.
Having the time to contemplate my to-do list at night helps me visualize what I have to do the next day and how much time it might take to potentially complete some of these tasks. Since I am not in a rush, I am apt to list everything I need to do including harder tasks. Because the most difficult task is usually listed first, my inclination in the morning is to start with this task. By completing this step in the morning, I carry positive momentum throughout my day and it puts me in a better place to complete other tasks on my list. 
I am more realistic with my goals.
When I wrote my to-do list in the morning, I'd put everything on a small piece of paper. This approach only increased my stress because as I was writing down my to-dos I knew that not only would I be cramming details into the margins, but I couldn't complete every item. I still insisted on jotting each task to give me the illusion that I was not only busy but productive. By the end of the day, I'd stare at the 10+ to-dos, realizing I didn't complete a single item. 
Now, since I write my to-do list at night, I plan out an estimated time it will take me to complete my goals and limit my list to no more than five tasks. I am successful at completing at least four chores by the day's end. 
I'm less likely to procrastinate.
Since I am accomplishing my tasks because of composing my to-do list at night, I am less likely to procrastinate. I battled procrastination in my 20s and 30s, but this simple shift has eliminated my need to put things off. Even completing a small goal prevents procrastination from becoming a problem and since I am actively completing tasks, my willingness to embrace difficult goals has increased. 
My overall productivity has improved.
Since I've been making my to-do list at night, my overall productivity has improved. I have a set plan in the morning and am able to work through my goals without thinking about what comes next — because I already know! This one simple shift has helped me flourish with professional and personal goals.
I don't feel guilty about relaxing in the evening.
Relaxation is a core part of my evening, and ever since I switched up when I create my to-do list, I've found that it's much easier to be present as I watch a movie, read a book, or hang out with my family and friends. Since I'm crossing out many of my to-dos, there is little to no guilt in taking some time for myself at the end of the day. As someone who works from home, this is a game-changer because it feels like I have some distance and boundaries between work and play. It also helps me recharge and tackle my morning without a feeling of dread.