NBC's Craft Show Making It is What We All Need in 2018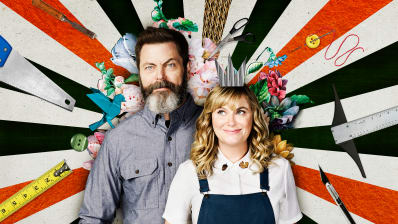 (Image credit: Courtesy of NBC)
Making It, hosted by Ron Swanson and Leslie Knope… I mean Nick Offerman and Amy Poehler, has received a lot of comparisons to the Great British Baking Show. And I totally get it: The hosts and judges are there for support and comic relief, not to critique contestants and bicker with one another.
Making It is exactly what 2018 needs. Like Poehler says in the intro, "life is stressful enough—let's make a show that makes you feel good."
(Image credit: Courtesy of NBC)
Like the Great British Baking Show, contestants gather together each week to complete a series of challenges. Rather than a tent, their work space is a beautiful barn-turned-craft-room the Gaines' could have designed. The first challenge is called the "faster craft," a three-hour project. The second is called the "master craft," the timing unclear.
Besides the fact that the judges send someone home at the end of each week (it is, after all, a reality competition show), they don't rank crafts or pick a loser. The project reveals are supportive and celebrate everyone's creations respectfully. As judge Simon Doonan says: "In the world of making there are no mistakes."
Now that we've established background, let's get to the good stuff: How a very novice but very avid crafter (that would be me!) really feels about Making It.
(Image credit: Courtesy of NBC)
1. Why isn't anyone totally freaking out?
Three hours for a "faster craft?" Ha! Any time I craft, it fully engulfs my evening. If it's a weekend, forget it—it doesn't matter if I start at 8 a.m., my day is now over. But these people seem unfazed by the challenge of creating a 3D representation of themselves as an animal in less than a single afternoon. I don't know about you, but if Amy Poehler told me to "show us your secret beast," I'd probably start to cry. Amber? She takes the assignment in stride, even cooly chit-chatting with Ron… I mean Nick… about how pink and yellow felt comes from colored beavers all around the world. Huh?!
(Image credit: Courtesy of NBC)
2. Where is the mess?
Even when I'm totally inspired and have a clear idea, there's a massive hurdle I have to overcome before I can get crafty: finding my supplies. My glue gun is in my purse from that time I brought it to work, my scissors are in the kitchen drawer, my Cricut cutting machine is on a shelf in the garage, and the rest of my supplies are thrown together in a reusable bag in the closet. Oh, and my glue probably hardened long ago. Once I'm in the groove… well, my living room will likely be a glitter bomb until a few days later when I get around to vacuuming.
(Image credit: Courtesy of NBC)
3. How in the world does everything—well, almost everything—look so good?
When I'm crafting, something weird happens. I dream up these beautiful things, but then I get to work… and things just don't look quite the same as they did in my head. Just about everything the makers created looked pretty darn fabulous to me. Then, just when I was feeling really inferior looking at the truly spectacular three-hour paper sunflower bee creation and the amazing puppet theater, contestant Jeff Rudell said, "The biggest hurdle is how to do something that I think is spectacular in the time allotted." Um, yes, Jeff. Thanks for the real talk.
(Image credit: Courtesy of NBC)
4. Where's my patch?
I'm ready to go back to my Pawnee Goddess, er Girl Scout, days. I'd craft a whole lot more if I knew all that creativity and hard work would be rewarded with a patch for my sash.
(Image credit: Courtesy of NBC)
5. Can we count on more puns?
I'm into the crafts, but I'm really here for the puns. The show doesn't get very technical. Instead, it shows quick snippets of each contestant working on their projects. I hate to say it, but if not for the hosts, it's just not that captivating. The intermittent bits by Ron and Leslie—ugh… you know what I mean—going head to head in pun-offs ("You all thready for this?") and generally having fun making us laugh though? If I'm being honest, that's what I'm coming back for next week.