Mall Santas Share Kids' Weirdest Christmas Wishes
We
independently
select these products—if you buy from one of our links, we may earn a commission. All prices were accurate at the time of publishing.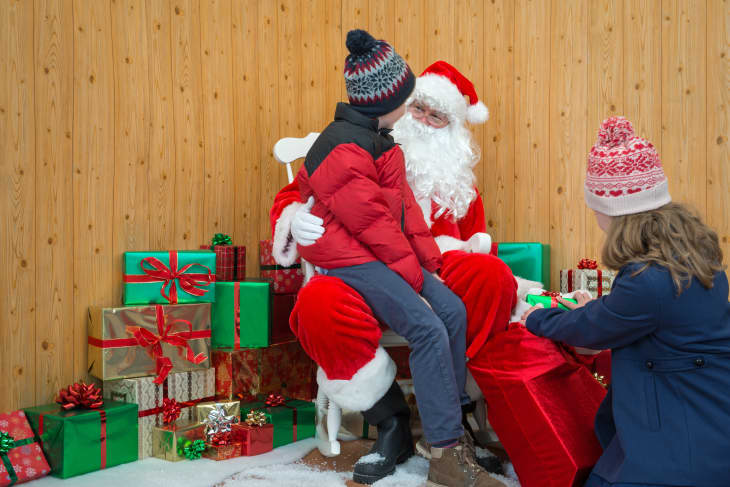 If you have kids or have spent a lot of time with them, you know they have an outsized ability to say things that catch you off-guard. Apart from parents and preschool teachers, there's another group of people who get to hear kids at their most candid: mall Santas.
Because mall Santas hear the deepest wishes of hundreds of kids per day, they're bound to hear some interesting things. In a recent Reddit thread, mall Santas (and elves and Mrs. Clauses and parents) answered the question, "Mall Santas of Reddit, what is the weirdest thing a kid asked for Christmas?"
Here are some of their responses: 
"Not a Santa, but I have been a Mrs. Claus for the last few years and I always ask the kids what they want while we do our crafts.

"My favorite was this 4-5 year old girl that told me she wanted 'one of those loud horns'. She made a gesture like she was using those canned air horns and she made a little horn sound. She said she wants to use it to wake up her baby brother when he naps in the daytime so he 'knows what it's like.'"

—Reddit user Candy_Acid
"Yesterday the big sister asked for a pet mouse, the little sister asked for a snake."

—DaveIsMyDrummer
"After waiting two hours in line my daughter asked Santa for a hot dog."

—Simulated_Narwhal
"My uncle was a Santa and he told me that one year a kid asked for a coffee maker because he wanted to start his own Starbucks coffee stand instead of a lemonade stand. Apparently business was not very good as a lemonade stand but he noticed a lot of adults drink coffee, so he'd make coffee. That kid is probably a millionaire now."

—The_Calico_Jack
"Reindeer eggs so he could start his own franchise."

—v00g
"Was a Santa at a party last week. A kid asked for a whistle that she could blow at night to wake her mom up and scare her when she was sleeping. I said 'No, that would put you on the Naughty list, let your mom sleep you little gremlin.' Mom laughed."

—VictorCrowne
"Not a mall Santa but an elf at a charity event. I over heard a kid asking Santa for a real life Pokémon, not a plushie or a Pokémon themed toy, a living Pokémon. I'm sure the kid was sat there for about five minutes making sure Santa fully understood the request."

—RokoPlayzYT
"Some kid asked me to make a kid with his mom so he would become related to Santa"

—FireburnsChildren
You can see the whole thread on Reddit here.