How to Make Time for Your Hobbies (& Why You Should)
We independently select these products—if you buy from one of our links, we may earn a commission. All prices were accurate at the time of publishing.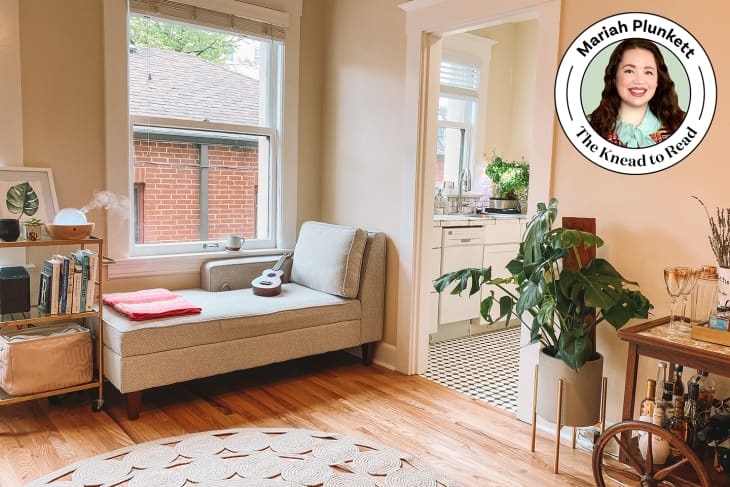 Happy Place is a brand-new editorial series dedicated to helping you live your happiest, healthiest life at home. Every week for 4 months, we're sharing quick, doable, and not-at-all-preachy tips that wellness pros, home decor experts, and Apartment Therapy editors actually use (really!). Sign up now to get 16 weeks of actionable advice in your inbox.
Follow Topics for more like this
Follow for more stories like this
Happy Place is created independently by our editorial team and generously underwritten by Yogi® Tea.
Hobbies — i.e. those things that we do outside working hours that make our lives happier and healthier — are a crucial part of life. They increase creativity and confidence, and they can even make you more productive at your job. But they're often pushed to the end of your to-do list when your life gets a little (or a lot) hectic.
This was definitely true for Mariah Plunkett, a high school teacher in the Bronx, new mom, and baker of book-based recipes (which you can check out on her Instagram @thekneadtoread). 
"When I was pregnant, working, and going to grad school all at the same time, my hobbies would be the first to be sacrificed," Plunkett explains. "But when I realized the negative effect this had on my mental health, I had to step in and organize my week better to prioritize them."
Read on (and listen in) to find out how she makes her hobbies, which include baking, reading, and walking, a priority, no matter how frantic her week is.
No time to read? Listen to highlights from our conversation with Mariah instead.
You know to add work meetings, doctors' appointments, and important deadlines to your calendar, but your hobbies also belong on your schedule. At first it might feel a bit awkward to put time to walk, read a book, or bake some cookies on your schedule, but Plunkett says it's become much more natural for her since she started doing it: 
"This process of planning my week has become almost ritualized, where I will take some time at the end of the week, look at my pantry, research what I want to bake, and make a plan," she says. "Then, the rest of the week is simply enacting the plan which (usually) goes smoothly (minus the rogue dough or occasionally burning some cookies). But the best thing about baking is you get to eat your mistakes!"
Dedicate Space for Your Hobbies
"You are more likely to engage with your hobbies when they are easily accessible," says Plunkett. "If I have to go scrambling around the storage box for my rolling pin, I probably will think twice about making that pie. With reading it's the same thing, if you create a comfy space to read, you will!"
But, she adds, "This doesn't need to take a lot of space. When I moved into a teeny apartment with my husband, it was dedicating one shelf in the kitchen to my baking supplies." 
Know that making time for your hobbies won't always look the same every week — and that's okay. For Plunket, fitting in her hobbies might mean "creating a sacred 2-3 hours on Sunday, baking away the Sunday Scaries, or tackling a larger project but splitting it amongst multiple days." 
For example, if she's making macarons: "I will take Monday after work for grocery shopping; Tuesday I measure all my ingredients and put them in air-tight containers; Wednesday I bake them and wrap them up to mature in the fridge; Thursday, I make the fillings and assemble them; Friday I sometimes have fun decorating them or take them over to a friend's house to devour them together. By the end of the week, I've created something delicious, tackled a challenging recipe, and am calm, happy, and full.
"Don't feel the need to tackle huge projects or complicated ones when you're just starting out (or when you're just tired)," advises Plunkett. If you're a baker, "maybe use a boxed mix cake but focus your valuable energy on a homemade frosting recipe. Doing one small thing can make it feel special."
Ready to find your happy place? Sign up for the newsletter!