The 5 Things Marie Kondo Keeps on Her Nightstand — and One She Definitely Doesn't
We independently select these products—if you buy from one of our links, we may earn a commission. All prices were accurate at the time of publishing.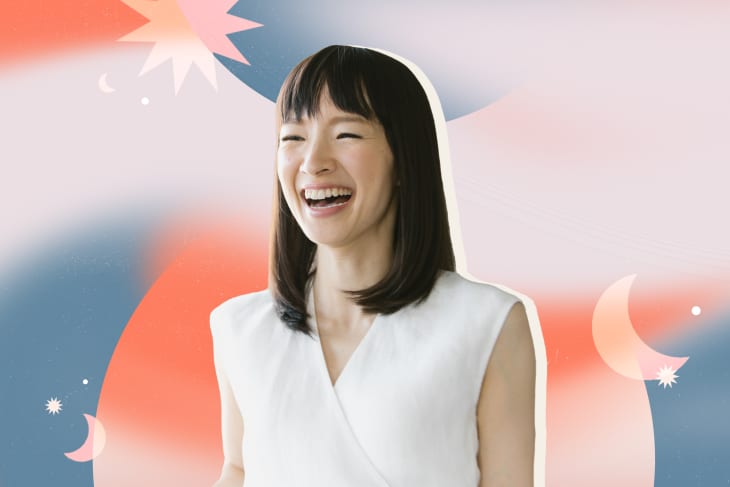 Our nightstand setup says a lot about how we like to end the day and start another. What's On My Nightstand asks celebrities, entrepreneurs, and beyond what essentials they like to keep within arm's reach. 
Before going to bed, I drink some water, rub grapefruit and mint body lotion on my arms, flip through my current book until my eyes get heavy, then I click off my lamp. What do all these actions have in common? They begin and end on my nightstand.
Follow Topics for more like this
Follow for more stories like this
If you have a bedside table, too, odds are you'll find out some interesting things about yourself by observing what's on and in it. And since the small-yet-mighty furniture pieces are pretty universal, I'd like to know what celebs and entrepreneurs keep on their nightstands. Is it the secret — or at least a reflection — of their success? Well, there's only one way to find out, and that's by asking.
As our first "What's On My Nightstand" spotlight, we got to chat with Marie Kondo — iconic organizer, author, TV host, business owner, etc. — about what she reaches for when winding down and starting back up.
Memo pad and pen: Sometimes, a good idea can't wait, and Kondo comes prepared with this nightstand essential. "I have a memo pad and a pen, so whenever I think of a new idea I can jot it down very easy," Kondo said. After all, how many times have you had a brilliant, life-changing thought that you swore that you'd remember, then 20 minutes later, poof. Gone, like a fantastic dream passing in the night.
Crystal: Going back down the path of creating good vibes, Kondo also has a crystal nearby not only for its beauty, but the effect she feels it has on her surroundings. "I feel like it purifies the environment in its own way," Kondo told Apartment Therapy.
Aromatherapy: Speaking of purifying, Kondo also keeps an oil diffuser and essential oils on her nightstand, which have become must-haves in a year of seemingly nonstop stress. Last but not least, she likes to have hand cream, too (we're twinning).
In addition to sharing what she likes on her nightstand, Kondo also told us what she doesn't like to have — and that's her cell phone. "One thing I'm very cautious of is before I go to sleep, I try not to place my cell phone close to my head, so keeping that farther away from me." That's some good advice we can all start taking.
Thanks for chatting with us, Marie!