This Customizable Pillow Has an Ingenious Feature That I Love — And You Can Save Up to 20% On It Now
We
independently
select these products—if you buy from one of our links, we may earn a commission. All prices were accurate at the time of publishing.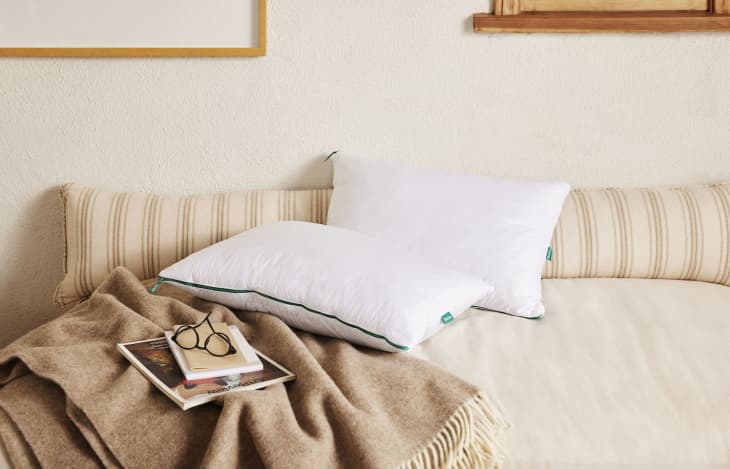 On my never-ending quest for my best bedding yet, I've tried a TON of pillows. I've found a few that I really love along the way, but that doesn't mean that my search has come to an end! Since I've yet to reach the limit on how many pillows my bed can hold, I'm always happy to try more of them out — especially when they're from some of AT's favorite bedding brands. So when Brooklinen-created brand Marlow launched The Pillow, a customizable antimicrobial pillow, I knew I had to test it!
The Marlow Pillow arrives rolled like a tube, and part of the fun is simply opening it, giving it a fluff, and allowing it to naturally settle. After it has some time and room to breathe, the pillow will puff up and be ready to use! It's a gorgeous, green-lined piece with a 100 percent cotton shell that's thick enough to sleep on comfortably, whether or not you choose to use a cover. I happen to be extremely attached to my celestial Brooklinen Mulberry Silk pillowcases, so my Marlow pillow is currently covered in stars.
At first sight, you won't be able to tell that the Marlow pillow is adjustable. It's true! The firmness is determined by a special built-in feature that's hidden in plain sight. On each long side of the pillow is a zipper. When it's zipped up, the Marlow pillow is firm. As you unzip it, it becomes softer. That means there's no need to open up the pillow to refill it to increase its support and softness. Whether firm or soft, I found the Marlow to be super comfy! For the first week, I slept with it fully zipped, not realizing the zipper had a special purpose. At its firmest, it was just the right density for lounging while sitting up in bed or laying down while reading or scrolling on my phone.
My sleeping preference with The Pillow is keeping both sides unzipped, though. The fill stays contained by a breathable mesh that also assists in regulating the temperature of the pillow. I like that it's not as plush as a down pillow but still feels like I'm sleeping on a cloud. It also stays cool, thanks to an 80/20 split of cooling memory foam and polyester fiber. On either side of the Pillow's softness spectrum, my head and neck were supported throughout the night. No matter which way I turned in my sleep, I never felt the need to readjust the pillow for comfort.
The innovative design of The Pillow by Marlow makes it one of my favorite pieces on my bed. The pillow comes in both standard and King sizes, and can be purchased individually or as a set of two or four for a discounted price. Best of all, now you can save up to 20 percent off when you bundle! So go ahead and stock up on these pillows — believe me when I say that you'll want more than one!