My Search for the Perfect Pillow Is Over Thanks to This Cooling, Fluffy Find
We independently select these products—if you buy from one of our links, we may earn a commission. All prices were accurate at the time of publishing.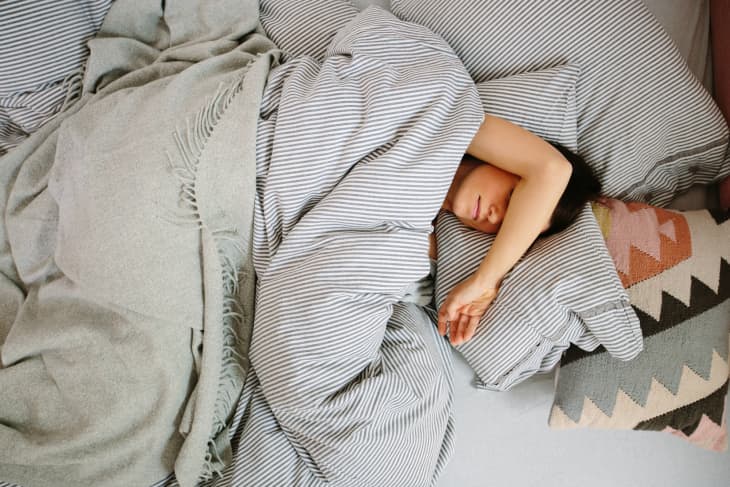 Pillows are one of the most important pieces of the puzzle when it comes to building the bed of your dreams. I've tried plenty of them, and while many have been comfortable, they weren't right for me. They can be plush, firm, or reversible; and there are pillows for stomach sleepers, back sleepers, and side sleepers. With so many to choose from, it can be an overwhelming task to pinpoint your perfect pillow. When you find the one that suits you, it's best to hold on tight. One I'll be holding on to for awhile is the Purple Cloud Pillow.
The first time I used the Cloud Pillow, I slept like a baby. I didn't even realize I'd fallen asleep until my alarm went off the next morning! In the past, I've slept on down pillows, which are the epitome of plush; however, they're usually way too soft for me. I would wake up throughout the night to fluff it up or readjust, but not with the Cloud. Though it feels like a down pillow, it's actually filled with tiny gel fibers that add amazing support by shaping to your body. Whether I was laying on my back or stomach, I didn't get up with an aching neck. It also didn't flatten dramatically if I relaxed on it while sitting up in bed. The Cloud Pillow maintains its shape without being stiff, and the icing on the cake is that it's washable!
I never get too hot while sleeping on the Cloud. It's light, fluffy, and breathable. This is surprising, considering how supportive the pillow is overall. I love how it has the puffy shape of a down or down alternative pillow, but doesn't get lumpy or look crumpled after use. I rarely have to fluff the Cloud pillow, as it regains its shape on its own. It's also maintained its level of firmness over the past few weeks I've been using it! Making my bed is a breeze, thanks to how low-maintenance the pillow is.
I've been on a mission to find my ideal bed pillows, and the Purple Cloud Pillow is certainly one of them! I just need one more to complete the pair. At $49 apiece, the high-quality comfort is totally worth it!