This Is Martha Stewart's Net Worth
We independently select these products—if you buy from one of our links, we may earn a commission. All prices were accurate at the time of publishing.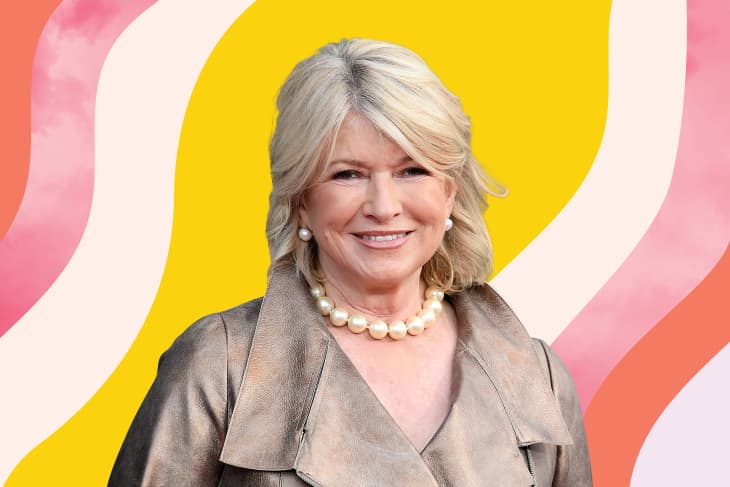 Martha Stewart, otherwise known as the Queen of Domestic Arts, has been blessing our lives with her talent and grace for decades. No stranger to the business world, Stewart has accumulated quite an impressive catalog of work over the years, ranging from television shows to book deals, all of which put an approachable spotlight on home and hospitality. 
Follow Topics for more like this
Follow for more stories like this
She has amassed herself a cult following as a strong and independent media personality, entrepreneur, and retail business woman while simultaneously finding ways of staying relevant in an ever-changing world. So, given her impressive resume, how did Martha Stewart's net worth end up totaling out to $400 million (according to Parade)? Well, first you'd have to go back to the beginning, before the big media conglomerate and celebrity glamor, when Stewart was just a stock broker in New York City. 
It was during her exit from her short-lived stint on Wall Street that she discovered just how much she had caught the entrepreneurial bug, resulting in the following business decisions that would prove she was willing to take risks and get her hands dirty. Since then, she has single-handedly influenced the way Americans eat, entertain, and decorate their homes, and it's likely that something in your home exists as a result of her influence. And as a result, Stewart became America's first self-made female billionaire.
It is in no slight whatsoever, though, to point out that Stewart's total net worth has dropped since the 1990s. That doesn't mean, however, that her current position today in the home and hospitality world, as well as within pop culture, hasn't solidified her as an absolute cult classic. And when you have rap icon Snoop Dogg praising your character and referring to you as "solid as a rocc," you know you're doing something right. 
Here's how Martha Stewart amassed her whopping $400 million (and growing) net worth.
She was a model during her college years.
According to Business Insider, Martha Stewart began modeling at the age of 15 and continued on in the career during her years as a student at Barnard College. While she had a scholarship to attend the school, modeling helped her to supplement her income as living in New York was (and still is) very expensive. 
Walking in a number of fashion shows and posing for many magazines and catalogs during her career, Martha noted that at times, she made up to $50 an hour modeling — which was a high amount in the 1960s and early '70s.
Martha launched a catering business out of her kitchen in 1973.
Due to the realization that she loved creating ideas, after leaving her job on Wall Street as a stock broker, Stewart's true entrepreneurial spirit took over. She created a catering company that she ran out of her own kitchen, making everything from scratch — which ultimately laid the groundwork for her cookbooks and cooking shows. Stewart and her then-husband would also go on to revamp their 1805 farmhouse — which they purchased together in 1970 — that in turn, acted as some pleasant foreshadowing to the empire that she would go on to create. 
Her first cookbook was published in 1982 and since then, she's published 99 to date.
Entertaining was Stewart's very first cookbook and it gave the world their first peek at just who Martha Stewart was. After being published in 1982, her book would aid in establishing her voice, all while showcasing the recipes she perfected while running her catering company. The use of full-color photos was a choice that lended to the success of the book, as it was originally considered unusual at the time. This decision ended up setting the standard for future cookbooks to come. Since then, she has written a total of 99 cookbook titles, including The Martha Stewart Cookbook.
Her media company, Martha Stewart Living Omnimedia, went public in 1999, making her an instant billionaire shortly after.
After the first issue of Martha Stewart Living was published in 1990, subscriptions quickly grew over to more than 2 million. The very next year, Stewart would launch Martha Stewart Living as a quarterly magazine in partnership with Time Publishing Ventures. Eventually, the magazine moved over to a monthly publishing schedule, and with Stewart being aware of the value of owning her brands outright, she eventually moved forward with an acquisition. 
As a result, Martha Stewart Living Omnimedia was born in 1996, with Stewart owning a 70 percent stake in the company. In 1999, the company went public, with day-one stocks being priced at $18 and tripling in value before closing, solidifying Stewart as America's first female self-made billionaire.  
The stocks dropped in 2002, and cost her just as much as she's worth today. 
The company's stock would start to fall from 2002 to 2004 due to her brief stint in prison after being convicted of three felony charges for insider trading. Her actions would eventually cost her over $400 million, all over a trade that made her just under $230,000. 
She sold Martha Stewart Living Omnimedia in 2015.
Martha Stewart Living Omnimedia and all of Stewart's branded products and magazine were eventually sold to Sequential Brands Group in 2015 for a breezy $353 million. According to Forbes, the deal included a $6 million salary for Stewart, which included $406,941 for "non-business" travel, $114,620 for "utilities and telecommunication services," and $146,880 for "personal fitness, wellness, beauty, and wardrobe." Not a bad deal for someone who put in decades of work to get to where she is. 
Martha Stewart has multiple estate ventures, television shows, and business ventures.
Between a vast real estate portfolio that boasts a seven house primary residence, multiple hit television shows including The Martha Stewart Show and Martha & Snoop's Potluck Dinner Party, and new business ventures like her recently opened Las Vegas restaurant, The Bedford, Stewart has more than flexed her entrepreneurial muscle over the years. With a track record like hers, it's no wonder she has garnered the fame that she has today. And while her total net worth has fluctuated over the decades, one thing is for certain, the 81-year-old maven still has time to grow.