Hundreds of Streets Are Named After MLK Jr. — And Community Groups Are Working To Change Even More
We
independently
select these products—if you buy from one of our links, we may earn a commission. All prices were accurate at the time of publishing.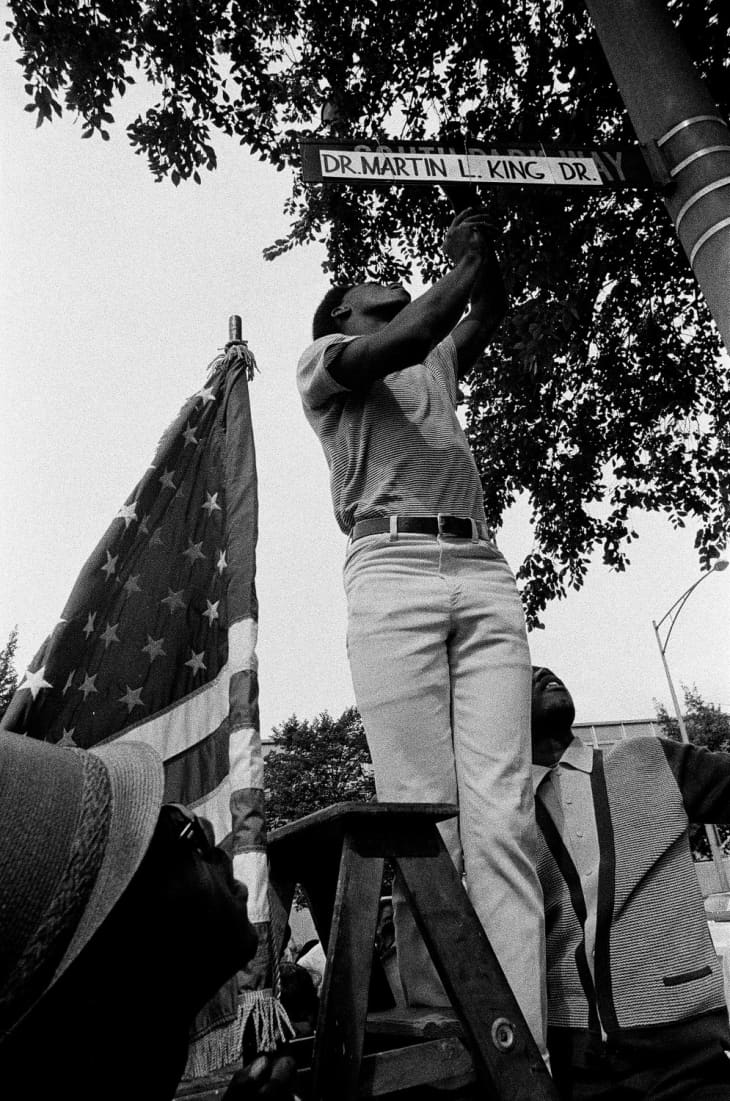 Every American has been on a street named for Martin Luther King, Jr. They're in big cities and small towns, across wide boulevards and along quiet roads. There are more than 1,000 streets across America named after Martin Luther King Jr., and over the last 20 years, the number of streets named after King has nearly doubled. How did these streets come to be?
In 1968, the year King was assassinated, Chicago became the first city to rename a street after the Civil Rights icon. My hometown, Winter Haven, Florida, was late to the party. In 2018, 25 years after local activists first proposed naming a street after King, city officials finally renamed Avenue T N.E. to Martin Luther King Jr. Boulevard. 
Like many streets named after King, Martin Luther King Jr. Boulevard in Winter Haven runs through a predominantly Black neighborhood. It seems to end at its boundaries, ignoring the inclusive nature of King's dream, yet still celebrating all that this Black community has witnessed. Jonathan Tilove, co-author of the 2003 book "Along Martin Luther King: Travels on Black America's Main Street," says that most of the streets' locations reflect a complex past.
"Just by showing up on a street named after Martin Luther King, you are able to take a trip through the history of Black America and the history of that particular community," says Tilove. "Generally, it has something to do with what was the main street through the Black community in the Jim Crow era, or it was a place where King had been, or a place where a protest was organized around, or a place with a historical church. You were connected to every aspect of Black history, politics, and culture in that community." 
In some areas, though, King's street signs have garnered a reputation as signposts signaling the worst parts of town. Comedian Chris Rock once joked that if you find yourself on Martin Luther King Boulevard, "there's some violence going down." And while institutional racism may have played a part in creating that reputation, it does so at everyone's expense.
Tilove rejects the stereotype. As part of his book, which is being released on paperback this year, Tilove traveled across the country with photographer Michael Falco to document the history and character of MLK streets. While writing an introduction for this edition, Tilove, who is white, revisited his research and reflected on his experiences on many MLK streets. 
"Unlike any other honor for King, it's completely grassroots and organic," Tilove says. "There was never any central or national organizing to create these streets… simply, a community would do it and the idea caught on."
"What you have in the South is so many smaller communities that have them," Tilove says. "The densest concentrations are in Mississippi, Alabama, Florida, and Texas."
For instance, Tilove traveled to Belle Glade, Florida, the setting for famed author Zora Neale Hurston's novel "Their Eyes Were Watching God," and home to many high school football superfans. A visit to Belle Glade's Dr. Martin Luther King Drive led Tilove to freshman week at Morris Brown College in Atlanta, where several Belle Grade football players had enrolled. Morris Brown is on Martin Luther King Drive, a block from the King family home. 
At the time of Tilove's visit, the President of Morris Brown was Dolores Cross, who had previously been President of Chicago State. Chicago State is also situated on Martin Luther King Drive in Chicago. 
"It was like you could start on one of these streets and be led to the next street, which would lead you to the next street," Tilove says of many of the cultural pathways that link these streets.
Black America's Main Streets
Melvin White runs a St. Louis-based nonprofit, Beloved Streets of America. A former postal worker, White seeks to improve MLK streets around the country by raising money for beautification and revitalization. He first got the idea to beautify MLK streets when he was on his route and noticed how run-down his local Martin Luther King Drive appeared to be.
The MLK drive was once home to a vibrant shopping district. "They changed the name in 1972; that's when it was on the decline," White says.
White believes unsightly streets named after King need investment and revitalization, and wants Martin Luther King Drive to attract businesses and families. His organization proposed building Legacy Park in St. Louis, a hub for the Black community with shared workspaces, a farmer's market, an arts and cultural center, and affordable housing. Although an artist designed a rendering of the proposed park and White applied for grants, the project remains in the proposal stage. 
Meanwhile, he's spoken with organizers around the country, supporting their efforts to improve Martin Luther King Streets. He says Milwaukee in particular is making great strides. There, Dr. Martin Luther King Jr. Drive serves a hotspot with trendy restaurants and thriving businesses. In fact, it's promoted as a tourist destination. Like many streets named after the Civil Rights leader, MLK Jr. Drive in Milwaukee used to end at the edge of the commercial district.
After the racial reckoning following the George Floyd protests, officials extended the renamed street through one of the city's most prominent locations. It was a move viewed as an attempt to bridge racial divides.
Roads to Realizing the Dream
Roads across the country continue to be renamed after King. Recently, two grassroots groups in Grand Rapids, Michigan — one led by Latinos and the other by African Americans — came together to rename Grandville Avenue and Franklin Street to César E. Chávez Avenue and Martin Luther King Jr. Street. 
"It was a physical symbol of the togetherness between Black and brown communities in Grand Rapids," Senita Lenear, commissioner of the city's Third Ward, said in a statement. 
The effort to name a street after King in Grand Rapids began in 2004. "It failed. It never came to a vote because there was so much opposition to the renaming of the street," Linear says. 
Now, it's the only intersection in Michigan bearing the names of the Civil Rights icons. The streets reflect the changing demographics in Grand Rapids — and the United States. Nearly two decades since the name change was proposed, the city commission is now made up of a majority of non-white members, the most diverse it has ever been. 
Lenear recalls speaking to about 50 white senior citizens who opposed the name change for Franklin Street before the approval in 2021. When she asked them if they knew who Franklin Street was named after, she says most thought it was Benjamin Franklin.
"I thought that, too," Lenear told Apartment Therapy. "We learned that it was named after a boy who was gifted this street by his godfather who was on the commission. This shows you how trivial some of the street names are. You could name it whatever you wanted to if you had the power to do so."
Lenear believes signs are powerful and send a message. "[The] committee sought to change the names of these streets for a sign of unity, peace and power," she says. "Something these two civil rights heroes, who never met, boldly represent."
White, the former postal worker, wants people to feel "cherished and loved" when they find themselves on Martin Luther King Drive. He hopes that one day Chris Rock's joke won't resonate.
"[Martin Luther King Jr.] always spoke about beloved communities," White says. "That's what streets named after him should be: beloved."