The 5 Best Marvel Movie Interiors That We'd Move Right Into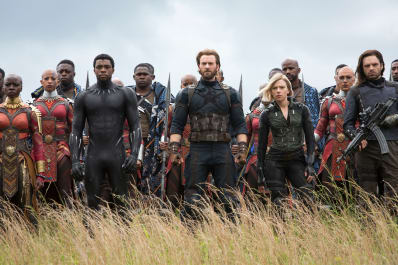 (Image credit: Marvel Entertainment)
The Avengers are reuniting one more time on April 27 for Avengers: Infinity War, the fourth installment of the franchise, which has been going strong now for almost a decade. In preparation, it's not a bad time to rewatch some of your favorites from the series, which encompasses three movies each about Iron Man, Captain America, and Thor, on top of a dozen others, including the record-breaking Black Panther from earlier this year. While you're settling in to experience them all over again, keep an eye out for these five great interiors.
(Image credit: Marvel Entertainment)
Hawkeye's farmhouse
It's fun to see where our favorite superheroes live, but the reveal of Hawkeye's domestic life was a big surprise in The Avengers: Age of Ultron. In this movie, we learned that our favorite archer lives in quiet, rural farmhouse with his wife and children. As one of Marvel's more underrated heroes, it's nice to see he's doing just fine in his personal life.
Captain America's D.C. place
Steve Rogers lives in our nation's capitol and we get a glimpse of his patriotically decorated apartment in Captain America: The Winter Soldier. It's pretty modern and sophisticated, and the artwork he chooses (Americana, motorcycles) probably say more about his style than the modern fixtures like the kitchen island and lighting choices. After all, his aesthetic choices would probably be rooted more in the 1940s.
(Image credit: Sony Pictures)
Spider Man's apartment
We see where Peter Parker lives in Spider Man: Homecoming and Avengers: Civil War, both of which show us the Manhattan apartment he shares with Aunt May. Even though they cast a much younger Marisa Tomei in the role of Aunt May, the apartment still kind of looks like it was decorated by an older person. Its green walls and cabinets aren't very 2018, but some of the updated appliances and flat screen TV make it look a little more youthful.
(Image credit: Marvel Entertainment)
Tony Stark's Malibu mansion
Iron Man's bachelor pad kind of looks like a spaceship from the outside, but the inside is surprisingly classy for a wealthy man child's place. It's sleek and modern, with floor-to-ceiling windows and modular furniture. He's big on skylights, allowing for tons of natural light from multiple angles. You'd think Iron Man has the coolest house since he has all that Stark money, but there's still one interior even he can't top.
(Image credit: Marvel Entertainment)
T'Challa's Castle
It's hard to compete with this Wakandan castle as seen in Black Panther. First of all, the lighting is amazing, the design is perfect, and honestly, just look at the fashion of this technologically-advanced African nation. Plus, it's a straight-up castle, and you know utilities are cheap there what with all that vibranium they have up in there. This one clearly wins, even over Iron Man's California mansion.
Only a handful of Marvel movies are on Netflix right now, but you can always dive into their original series tied to the franchise, like Jessica Jones, Daredevil, Luke Cage, and more. Those three alone give a lot of screen time to the Hell's Kitchen neighborhood of New York.