Maura's Return to the West Coast (Without a Moving Van)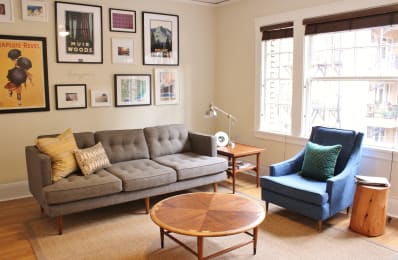 (Image credit: Submitted by Maura)
Name: Maura
Location: King's Hill - Portland, OR
Late last year, when I was particularly missing my native West Coast, I decided to relocate from Washington, D.C., to Portland, Oregon. Part of the challenge (and the excitement) of making a cross-country move was the fact that I decided to bring with me only what I could fit inside my car — so when I arrived in Portland, I would be looking for entirely new furniture.
(Image credit: Submitted by Maura)
And here is what I came up with! My hillside one-bedroom apartment is on King's Hill in S.W. Portland — a lovely, tree-filled area at the base of Washington Park. I love this neighborhood — I can be on forest trails in a matter of minutes, or I can walk a few blocks and visit some of my favorite home decor stores (Alder + Co., Canoe, and Porch Light) in downtown's west end and the Pearl.
(Image credit: Submitted by Maura)
My style is a little mid-century, a little vintage charm, and a mix of color and pristine whites — all on a pretty tight budget. But one of the best things about beautiful, unique Portland is its wonderful second-hand furniture stores. My coffee table, end tables, dresser, and comfy blue armchair all came from these local treasure troves (Hawthorne Vintage Modern, The Reclaimory, and Red Snapper), while West Elm, Apt2B, and IKEA helped fill in the gaps.
(Image credit: Submitted by Maura)
(Image credit: Submitted by Maura)
What are some of my favorite things about this space? As a writer who works from home, I adore my little office nook that connects the bedroom to the living room. Never before have I had a designated work space that wasn't also the dining room table, so this feels much more cozy and welcoming. I also love the simple, charming look of the vintage black and white decor in my kitchen. But mostly, I love looking around at my walls — at the photographs I've taken, at the mementos I've collected in my travels, and at the pictures of my family — and feeling the warmth that they provide.
Thanks, Maura!
• Interested in sharing your home with Apartment Therapy? Contact the editors through our House Tour & House Call Submission Form.