The Best-Selling Bluetooth Meat Thermometer That Helps Me Cook Perfect Roasts Every Time
We
independently
select these products—if you buy from one of our links, we may earn a commission. All prices were accurate at the time of publishing.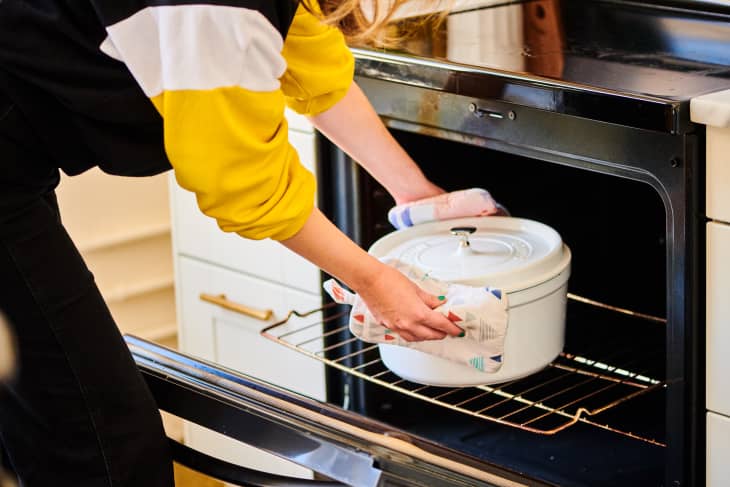 Holidays and the cold weather months mean one thing: dinner parties. And, while you're almost always sure to have a good time when you're a guest (did someone say, "no cleanup?") — hosting can end up being the most stressful part of winter. Besides tidying up, setting up, and curating the perfect playlist, you're also on the hook for the main event: the food. Since roasts, whole birds, and braises often lend themselves to large-format dining, you have to be extra careful to make sure you don't under- or overcook your meat. Of course, you'll definitely want to have an instant-read kitchen thermometer on hand, but if you're hosting, you can't be hovering over the oven every few minutes to check the temperature. Plus, constantly opening your oven can cause huge heat fluctuations. (You know what they say: "If you're lookin', you ain't cookin'.") That's why my recent pickup of the MEATER Plus, a Bluetooth-enabled wireless temperature probe, has been such a huge boon during these stressful times. 
Now, I don't have an outdoor cooking area (or an outdoor area of my own at all), but if I did, this thing would make grilling and smoking meats a serious breeze. That's because the MEATER Plus has a 165-foot connection range, so you can pop your roast or steak on the grill, and duck inside to escape the weather while being able to check on your meal's temp the whole time through the free app. (You can even use the app to set up custom alerts and notifications based on temperature and cook time.) The MEATER Plus also features dual temperature sensors, which monitor the internal and external temperature, up to 212 degrees Fahrenheit and 527 degrees Fahrenheit respectively. And — after you've cooked your meal to perfection — you can just toss the probe into the dishwasher for easy cleanup. 
A few features that stuck out to me when I tested out the MEATER Plus — which helped me make delicious, succulent, oven-baked pork ribs, I might add — were the case, the easy-to-use app, and the range. The case houses everything you need in a small, wooden box that, get this, sticks magnetically to your fridge. And, the case also charges the probe while not in use from a single, easily removable AAA battery. The app is also super intuitive, even for a Luddite like myself, and there was no hassle getting the probe synced — just make sure you set your probe up well before cooking time, since it needs two hours to charge before its first go. As for the range, unless you're planning on taking a jog while your prime rib is in the oven (Pro Tip: Don't), the connectivity radius is more than enough. 
With a 4.5-star average rating from nearly 30,000 reviews, it's safe to say I'm not the only one who digs the MEATER Plus. "Although I do have an Instant Read probe that I still use to verify doneness of proteins, the Meater Plus is so much easier to use and you don't have to constantly check the food so it doesn't get over or undercooked," one reviewer writes. "I am an experienced cook, but as you know foods can look done on the outside, but you can't see how well done they are on the inside. This MEATER Plus is the perfect solution for perfectly cooked proteins and other foods." So, if you're looking for a gadget that can help take some of the stress out of your holiday season (and dinners in general), pick up the MEATER Plus — and thank me later.