Meghan Markle Pairs IKEA Picture Frames with $105 Candles
We independently select these products—if you buy from one of our links, we may earn a commission. All prices were accurate at the time of publishing.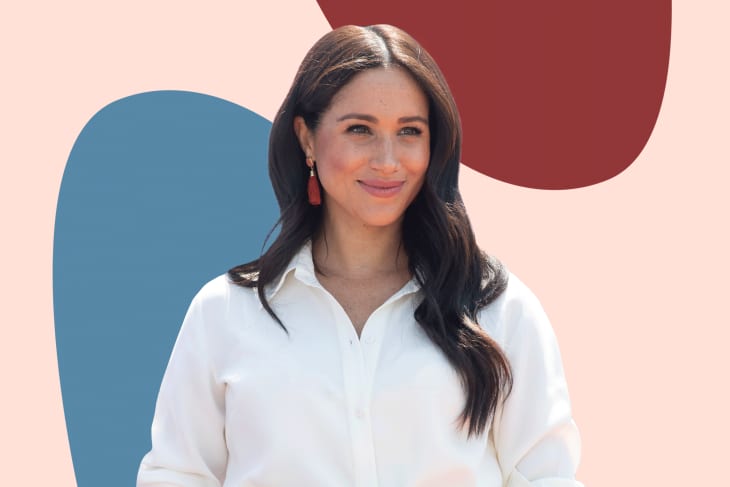 In a candid new interview with The Cut, Meghan Markle invited writer Allison P. Davis into the Montecito, California, home she shares with her husband, Prince Harry, and their two young children, Archie and Lilibet. The former royal (and newly-minted podcast host) had previously given a few rare glimpses inside the stunning $14.65 million home, while Davis shared some new decorating intel from the Duchess of Sussex herself, including the treasured IKEA picture frames she's kept from her pre-royal life.
Follow Topics for more like this
Follow for more stories like this
Describing the family's airy California abode as "Nancy Meyers cinematic interior, Town & Country, Goop, and Architectural Digest had an orgy and created the perfect moment in California living," the home's dreamy decor apparently "evokes a classic Tuscan villa, a Napa vineyard, and a manicured Beverly Hills country club decorated with careful, considered coastal tones for a casual air — the home equivalent of billionaires dressing down in denim."
Naturally, part of that elegant, exclusive allure comes from the $105 Soho House-branded candles that Markle burns. Fittingly enough, the Bassett Rose Water Candle is hand-poured in England and includes a blend of scents inspired by the classic English rose, also nodding to the couple's secret first date at Soho House in London.
Markle is also a fan of the equally luxe Diptyque Tubéreuse/Tuberose Candle ($70), which she recalled lighting on her wedding day in 2018. But her taste isn't exclusively high-end, as evidenced by the anecdote she told The Cut about returning home to Frogmore Cottage to pick up some of her belongings from her pre-royal and newly married life. 
As she recounted the "surreal" visit, Markle shared, "You go back and you open drawers and you're like, 'Oh my gosh. This is what I was writing in my journal there? And here's all my socks from this time?'" She also reunited with remnants from her single life, including her sofa and art posters that she collected from her travels that lived in "good old IKEA frames."
Though it's not clear which specific frames Markle had, she's a longtime fan of the Swedish furniture store. In fact, royal fan sites such as Meghan's Mirror and The Sussex Team have chronicled her love of IKEA throughout the years, including now-deleted Instagram photos from her personal account during visits to IKEA while living in Toronto and starring in "Suits."
At the time, Markle had the minimalist TARVA bed frame ($169) in her Toronto guest room, the brass-colored Barometer Work Lamp ($79) in her bedroom, and a discontinued chic Rens Sheepskin in her dining area, which one of her rescue pups seemingly loved to snooze on.
So while $105 candles are definitely out of plenty of people's budgets, it's clear that even a Duchess isn't immune to the allure of a bargain at IKEA.