Melissa Joan Hart Loves this Holiday Movie Just as Much as You Do
We
independently
select these products—if you buy from one of our links, we may earn a commission. All prices were accurate at the time of publishing.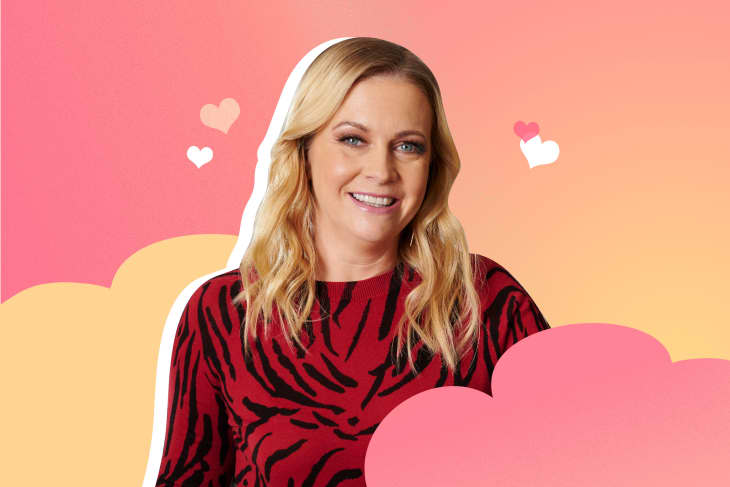 Perfect Night In is a series where we ask actors, artists, entrepreneurs, and beyond what a picturesque evening at home looks like.
If you're a '90s kid like me, a young voice saying "get lost, pickle-face!" might echo in your head when you think of Melissa Joan Hart (where are all my "Clarissa Explains It All" fans?). That, or the image of a blonde teenage witch, which needs no introduction.
Since her childhood acting days, Hart has starred in other TV shows and films, her most recent one being the new Lifetime holiday movie "Dear Christmas" that premiered last month. Speaking of the holidays, she's also partnered with Heluva Good! to gift someone a pop-up tent filled with goodies, because who doesn't want a place to escape? And if all that isn't keeping her busy enough, she has three sons—Tucker, Braydon, and Mason—and her husband Mark Wilkerson that she shares the house with.
But we all need time to unwind and put our feet up, so we asked Hart how she likes to do that in the comfort of her own home. Lots of family comedies, blueberry cobbler, and all around coziness ahead.
Describe your perfect homebody scene in five words: Cozy clothes, food, cleanup help.
Are you alone or with someone else? I wouldn't enjoy something as much if I wasn't with my husband and kids.
What's your night-in uniform? A big, fuzzy bathrobe.
What two people, dead or alive, would you let crash your night? My deceased grandmother and Shirley Temple. I feel like they would be best friends, and they've both been influences in my life. I'd love to have them both together, see what that would be like.
What are you watching? "Elf" or another family comedy.
Silence or music? Soft music, classical. I always go with Beethoven. I listen to it every night when I put my son to bed.
E-books or the real deal? I go back and forth. I try to be careful with waste and the environment, so I try to use an e-book more often, but I do like the feel of a book in my hand and seeing how many pages I have left. I like to put them on a shelf as a little bit of pride as something I've accomplished.
What are you reading? I'm reading two because we recently moved and I haven't been able to finish them up. "The Great Alone" by Kristin Hannah is about a family who moves to Alaska. She has a book called "The Nightingale" and I'm obsessed with her writing, it's so descriptive. My husband and I are also reading "The Seven Principles of Making Marriage Work," it's really helpful when you've been married a long time to rethink how you see each other.
Board games: yay or nay? Yay.
Order in or cook for yourself? I'd like my husband to cook.
What are you eating? A shrimp scampi.
What drink are you pouring? Sweet tea.
What's for dessert? He sometimes spoils me and makes a blueberry cobbler with real blueberries. It's insane.
Do you have a self-care ritual? I used to have a very extravagant bedtime routine, but it was draining and I started dreading it, which would then keep me from going to bed when I should. I started making it more simple, so my self-care is simplifying my whole beauty regiment. I probably need to prioritize flossing over 17 different serums.
What do you try to avoid at all costs? I try to avoid my phone, but it's super hard, especially when you have moments that the kids are watching something that you're not into, or you're just stressing about the day or the next. It's hard for me to tear away from my phone, but it's so important and I do my best.
Candles: yay or nay? (if yay, what's your favorite?) Nay.
Bubble bath: yay or nay? Yay.
Ideal bedtime? I like to try to go to bed at 11 p.m., but it depends. Like right now, I'm finishing watching "The Crown" and "The Queen's Gambit" and those are the ones I have to wait for my husband to go to bed to watch. That usually happens between 11 p.m and 1 a.m.
Thanks for chatting with us, Melissa!