How to Safely Clean and Store Your Menstrual Cup for the Other 20-Something Days of the Month
We
independently
select these products—if you buy from one of our links, we may earn a commission. All prices were accurate at the time of publishing.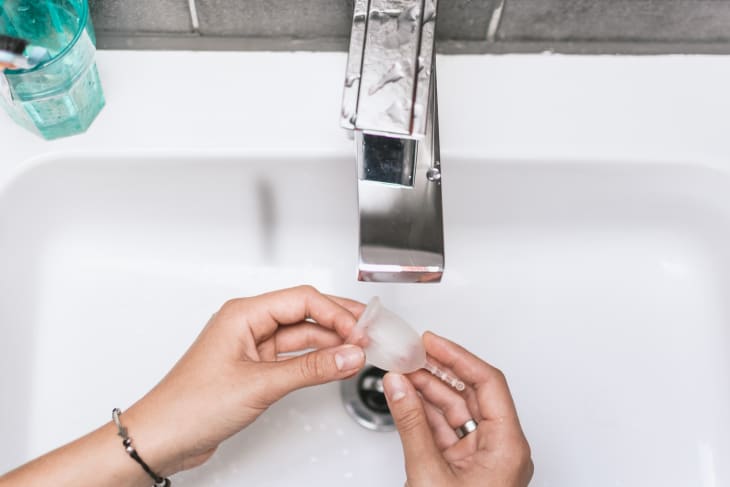 Usually composed of flexible materials like medical-grade silicone or viscose shaped like a bell to collect fluid, menstrual cups are reusable and therefore offer an eco- and budget-friendly alternative to tampons and pads when it's your time of the month.
How To Clean a Menstrual Cup 
It's officially the end of your cycle, and now you have a dirty menstrual cup to deal with. Here's how the experts say to clean your menstrual cup.
"First things first, it's important to boil your menstrual cup before first use," says Sophie Zivku, Corporate Communications Manager at DivaCup. "To do this, place it in an open pot of boiling water for five to 10 minutes with plenty of water. Just don't leave the boiling pot unattended. If the pot boils dry and you accidentally burn your cup, you're probably going to need to replace it."
And when cleaning between insertions, Tonhu Hoang from Evercup says no boiling water is necessary. "Once you remove the cup and empty it, you can simply rinse your cup with clean water and mild water-based soap to give your cup a quick clean," he says. Or you can pick up a pack of gentle disinfecting wipes, like Cupwipes, to clean your cup when you're on the go. 
"At the end of your cycle you can wash your menstrual cup as you normally would, with warm water and a mild, unscented water-based and oil-free soap, or a designated menstrual cup wash, like DivaWash," Ziyku says. "If you feel your cup needs a deep cleaning, you can soak the cup in warm water for a few minutes and then use a soft toothbrush (specifically designated only for the cup) to gently scrub it. Additionally, you can boil your cup in between cycles."
Where to Store a Menstrual Cup 
Now that we're clear on the cleaning part, here's how our experts say you should store your menstrual cup between cycles. 
"Once you've cleaned your cup properly, you're going to want to store it in something that allows for airflow," Ziyku says. "For instance, The DivaCup comes with a breathable drawstring cotton pouch, because menstrual cups shouldn't be stored in a plastic bag or airtight container. It needs air flow to allow for moisture to evaporate."
If your menstrual cup didn't come with a breathable pouch, there are still some DIY-style storage options you can use. "An organic cotton bag or satchel will allow for airflow while protecting the cup from dirt and dust," Hoang says. "An Evercup comes with three storage options: a two-piece case with ventholes, a ventilated one-piece case that functions like a satchel bag, or an organic cotton bag for this very reason." 
How to Know When to Throw Away Your Menstrual Cup
Since the materials used to make most menstrual cups are built to last for years, figuring out when to retire yours for good can be tricky. 
"Medical Grade silicone can last well over ten years when cared for properly, says Hoang. "It does, however, stain over time. Some users may wish to switch to another cup as a result, for aesthetics. In the unlikely event that a cup splits or develops cracks, it is time to replace it." 
"You can safely use your Lunette for several years—there's no need to replace it annually," adds Suzan Hutchinson, Operations Manager at Lunette. "However, the FDA recommends replacing the cup every two to three years. Some choose to replace their cup over time due to aesthetic reasons, as cups have a tendency to discolor with age. You can prevent discoloring by always rinsing your cup with cold water before cleaning it."
Luckily, our experts say there are a few telltale signs to look out for that mean it's time to replace your menstrual cup. "Inspect your cup regularly for signs of deterioration," Ziyku says. "This includes a sticky or powdery film, severe discoloration or odor, or if you find its causing irritation. Keep in mind, menstrual cups can discolor or develop an odor for various reasons over time. If you've noticed yours has, you can try boiling it. However, if an odor remains after boiling and thoroughly washing, you might want to purchase a new one."
"Also, if at any time your menstrual cup is exposed to unsanitary conditions such as a toilet, please replace it with a new one," Ziyku adds.
So basically, if your menstrual cup cracks, splits, smells, or falls in the toilet—it's time to bid it adieu.