Michael Imperioli's NYC Apartment Has Serious "White Lotus" Vibes (and It Actually Used to Be a Hotel)
We
independently
select these products—if you buy from one of our links, we may earn a commission. All prices were accurate at the time of publishing.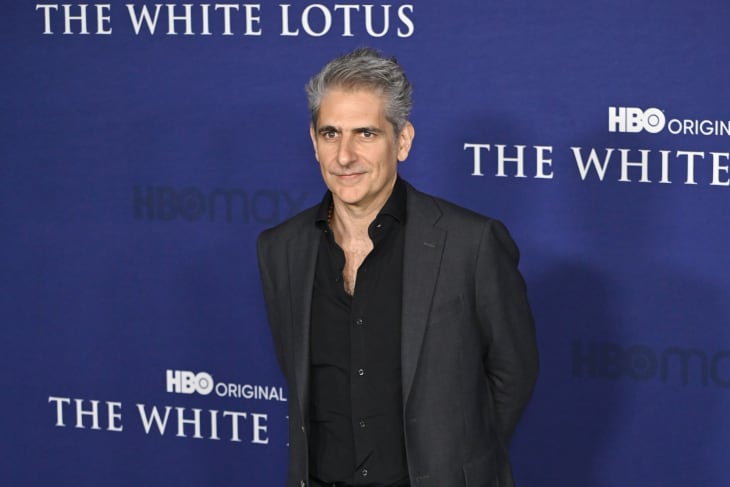 It may look straight out of Europe, but "The White Lotus" star Michael Imperioli's gilded spread is right in New York City. The beloved TV star, who rose to stardom as Christopher Moltisanti on HBO's "The Sopranos," invited Architectural Digest into the two-bedroom home he shares with his wife, Victoria. But in a fun twist on the AD house tour tradition, Victoria, an interior and set designer herself, customized the space for the couple. 
"I don't need to tell her anything, she knows what I need," Imperioli said of his wife, who designed the space around the couple's extensive art collection. "To me this apartment is a refuge from the world. It's representative of the past. This could easily be an apartment from the Jazz Age in New York around when it actually was built a hundred years ago."
Designed as if it were "a beautiful hotel suite," the space feels almost like a museum. A large print of a 19th-century German painting holds court in the main living room, while large windows provide a view of the cityscape, including a touch of Central Park. An unsigned oil painting is the boldest piece in the dining room, which boasts a French Art Deco aesthetic. The decision to eschew modern art was a conscious decision, says Imperioli.
"If you notice there's no modern art in the house. So everything for me, it's kind of like transporting," he explains. "Something about that is comforting."
The study, where the Imperiolis host their weekly meditation class, also serves as a spot for Michael to practice his music and get his writing done. It's also home to a bust of Santa Caterina, which he and Victoria purchased in Taormina, Sicily, while he filmed "The White Lotus." (In a unique twist, the head comes off to show a secret hiding spot.) Blue and grey decor sits next to two large screens painted by Victoria's late father.
Both practicing Buddhists, an important space for the duo is "the Buddha room," a former walk-in closet that was converted into a meditation space. Filled with traditional yellow and red religious paintings called thangkas, Victoria calls the room "the most important [room] for both of us." Together, they meditate first thing in the morning.
Yellow continues on in the bedroom, providing a sense of brightness when they wake up. 
"In New York, we're often deprived of the sun for a long, long time. I wanted something that's very soothing, that has a mood and a feel when you open your eyes," Victoria explained. Behind a rich yellow curtain is the couple's wardrobe, which includes a Georgio Armani suit that Michael wore as Christopher Moltisanti. While there is a television, it's covered up by a screen to avoid ruining the peaceful setting. Old framed pictures of the couple's three kids are visible, but it's clear the couple is thriving as empty nesters. 
"No offense to the kids, but it's really cool actually," says Michael. "We see the kids a lot, but it's kind of a new chapter, and a good one."