This Facebook Group Is Saving Mid-Century Bathrooms One Tile at a Time
We independently select these products—if you buy from one of our links, we may earn a commission. All prices were accurate at the time of publishing.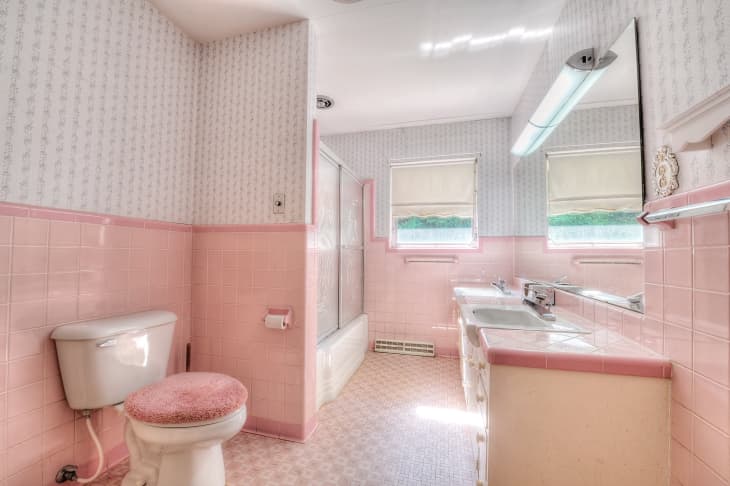 There's no better feeling than finding your people. You know — the type of folks who feel like family, whose brains churn out similar thoughts, and whose hearts pump out identical hopes and dreams. Readers, I'm happy to report I've found my community, and they're all members of the Facebook group "Mid Century Bathrooms (Vintage)." (What were you expecting, an intramural sports league? A barbershop quartet? My actual relatives?) 
Follow Topics for more like this
Follow for more stories like this
The Facebook group, created in 2016, is a celebration of mid-century bathrooms, with thousands of posts about preservation, retro advertising, and resource sharing. Its more than 20,000 members are all people who get really jazzed about bathrooms preserved from the '30s through the '70s. Whether marveling over quirky retro wallpaper, cheering on a member's preservation progress pictures, or solving a bathroom feature mystery together, the group is an absolute blast (from the past) and a welcome distraction from the frustration and vitriol that lingers in other corners of the internet. 
Washington-based member Barbra Menendez found this group through a similar online community dedicated to mid-century kitchens. With a background in theater and prop mastery, she loves the historical details people trade the group.
"I wish more people realized the old items were meant to last; they were made non-disposable and fixable, because war times made opportunity for new materials more scarce, so they had to make things that would last," Menendez says.
When new homeowners discover older cabinets, fixtures, or textiles, group members feel they don't realize the value of what may appear to be dated. Rejuvenation, as opposed to renovation, is the motto for group members.
Frequently, homeowners have no clue what treasures their homes offer. But this group is working to change that. Member Karyn Proudlock says, "My hope is to highlight that vintage bathrooms are amazing and desirable, and hopefully it might stop people from destroying them." 
More than anything, there's one vintage bathroom feature this group is desperate to save. California-based member Kimberly Johnson said of our interview, "I hope it helps save some old tile!" Everyone in this group is darn-near obsessed with saving mid-century tiles. Members even swap tips and product recommendations for cleaning or making minor adjustments to the iconic tiles to avoid unnecessary destruction.
Part of the beauty of the group is the history that it promotes. It seems like even the most curious remnants of the past — magazine holders, cigarette stands, and ashtrays, to name a few — are easily identified by dedicated members. 
"Luckily, both my parents are kids of the 1940s, so they have a lot of knowledge of things from the past and they readily share it with me, but these groups help tie it together when it's time to find out something to use the item for," Menendez says.
Johnson seeks inspiration from this and similar groups as she has embarked upon her own bathroom remodel project. "I've been in love with vintage style since I was a kid, and grew up with an amazing original 1950 bathroom," Johnson says. Many of the members (myself included) boast a lifelong admiration of the retro look. Johnson says she appreciates the resources that are shared, and adds, "Plus it's just nice to find like-minded people who appreciate this style."
It's easy to get caught up in the latest trends, whether that's boho or Scandinavian or farmhouse. But with a little knowledge about the made-to-withstand-time tile buried beneath the carpet or the unique bathtub that could use a little love, homeowners might reconsider their demo and dive right in to rejuvenation. Menendez sings the anthem of the group when she says, "If you're going to go to a time period of the past, go all in and have fun with it."