The "Old School" Device Guests Are Always Surprised to See in My Millennial Home
We
independently
select these products—if you buy from one of our links, we may earn a commission. All prices were accurate at the time of publishing.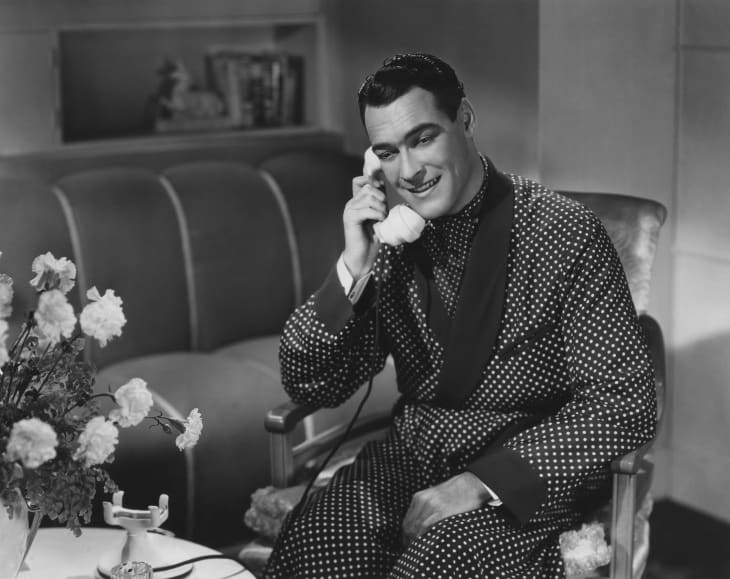 If you come visit my home and stay a while, you just might hear a familiar sound from the past — my cordless landline phone ringing loudly out of the blue. As silly as it sounds to refer to a "home phone" as a relic, the truth is, everyone who notices that we still have a landline is both surprised and confused.
I get it. We're definitely more of the exception to the rule these days. None of our friends use one, and our guests often marvel at ours like they're looking at something that was just pulled out of a time capsule. At times, the sound of it ringing has even startled them.
According to a 2018 CDC report, approximately 55 percent of all adults in America lived in a household with only wireless phones. Adults aged 25 to 29 (80.4 percent), 30 to 34 (83 percent), and adults renting their homes (78.7 percent), had the highest percentages of wireless-only homes. I imagine those numbers have only grown in the years since.
So, being a millennial couple with a landline phone has meant we've had to explain ourselves a time or two when people ask why we pay for such an "ancient" or "outdated" service. While I know that the technology is practically obsolete — unless you still want or need to send a fax — we actually do have a few good reasons to keep our phone around.
My aging family members prefer it.
My 77-year-old father lives with us on-and-off throughout the year. Although I did successfully teach him how to use his iPhone for basic calls and texting, when he's at home he always feels more comfortable reaching for the landline. Sometimes his iPhone can do a little too much at once — like let his cheek accidentally press buttons or switch to speaker phone mode —  and he's much less annoyed when he has an alternative. This alone is reason enough for me to keep a landline around, because as a daddy's girl, his comfort and peace of mind as he ages is top priority to me. And, because it basically comes with our home internet and cable package, I'm paying at most $5.00 a month to make his life a little easier at home.
The '90s nostalgia still brings me joy.
If plaid mini skirts, ivy garland, and thick-soled combat boots can enjoy a welcome comeback, why can't I cozy up to an hours-long conversation using my cordless house phone, just like I did back in my teen years and early 20s?
No, I don't use it that often — maybe once a week at best —  but when I'm on a marathon call with my out-of-town family and my cell is badly in need of a charge (or it's just plain dead), there's something both sweet and convenient about seamlessly switching over to my landline. I don't ever give out the number, because listening for one phone to ring is enough. But it is nice to have the phone to use for the occasional outgoing call. Plus, nostalgia is definitely known to make people feel more at home.
The service is reliable when I need it most.
Before we bought our first house three years ago, we hopped between quite a few different apartment buildings. Some had decent cell service, others not so much — especially after Hurricane Sandy wreaked havoc on the Northeast in October 2012. Sometimes our cell service would be so spotty inside those buildings that we'd actually need to use our landline to make or take important calls. As a working journalist, I conduct a lot of interviews over the phone and nothing is more inconvenient than dropping a call midway through a conversation or having poor audio quality when I'm recording.
Having both kinds of phones works best for me. I feel the most comfortable interviewing sources with a landline, but I use my cell phone to seamlessly record, save and translate the audio. And, I almost always call customer service numbers using my landline, because nothing is more frustrating than waiting on hold for 30 minutes to speak with someone only for the call to drop as soon as you do.
My phone actually gets a rest.
I use my cell phone for everything all the time. (I know I'm not alone there!) If I'm not checking email, using a navigation app, scrolling through my social feeds, or texting, I'm actually making a call, and sometimes I'm using it to do all of the above at once. Even when my cell phone is on the charger, I'm using Airpods or speaker phone mode to keep the conversation going. While I don't need to have a landline handy to give my cell phone a break to charge, I admit I do like to do this from time to time to force myself to truly unplug from my smartphone — AKA my entire world — for just a second.
So, consider this my love letter to our trusty landline phone, which we won't be disconnecting any time soon. Do you still keep one around? If so, I'd love to hear your reasons in the comments below!