Is There a Minimum Size for a Bedroom? Here's What Experts Say.
We
independently
select these products—if you buy from one of our links, we may earn a commission. All prices were accurate at the time of publishing.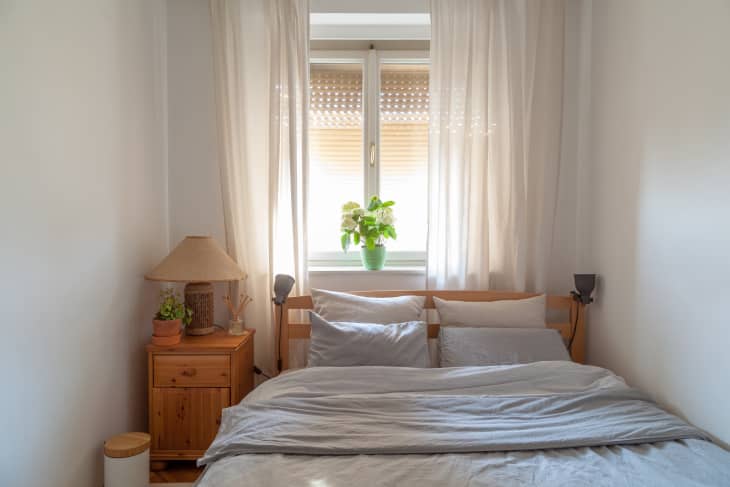 In my past searches for apartments and houses, I've seen more than a few wonky spaces billed as "bedrooms" in the listing. One of them, I kid you not, was a full-on living room. Another was little more than a walk-in closet — it could barely fit a futon. I've also heard a number of supposed rules about what makes a bedroom indeed a bedroom. People say it needs a closet, it needs a door that can close and lock, it needs a window … one or all of these has been mentioned in some combination, never with any real authority behind it.
So I set out to answer at least part of this question. What's the minimum size for a bedroom? Is there a minimum size for a bedroom? Here's what real estate experts had to say.
Is there a minimum size for a bedroom?
According to the International Residential Code, the answer is yes: 70 square feet total — or 6.5 meters squared.
That being said, some states may have larger requirements. In New York, for example, broker Ellen Sykes of Coldwell Banker Warburg says a bedroom has to be 80 square feet and ceilings at least eight feet high. Sykes also notes the ceiling can slope down to seven feet tall, but at least three-quarters of it must be above that height. 
There are a few other requirements in New York, too: "A legal bedroom must have the minimum dimensions [listed above], and at least two forms of egress, such as a window or a door," Sykes says. "Contrary to what a lot of real estate agents will tell you, it does NOT have to have a closet. If the bedroom is accessed directly from another bedroom, it is not legal; access must be possible from a common area such as a hall or 'public' room." 
So, the real estate agent who told me during my home search that a bedroom is required to have a window was correct after all. If there's no window, it's not a bedroom, according to the International Residential Code. 
"Many people use rooms without windows as their bedrooms, especially if they like a completely dark room at night for sleeping," says Coldwell Banker Warburg agent Steven Gottlieb. "But in our practices, a room should have a window to be labeled a 'bedroom.' Sometimes if a building is converted to residential after serving a non-residential purpose, there might be sizable interior rooms (without windows) that are used as bedrooms, but it might be frowned upon to label these rooms as 'bedrooms' on floor plans for marketing purposes."
Here's what a 70-square-foot bedroom looks like.
Curious about what the minimum bedroom size looks like? These floor plans can give you an idea of the size and what can fit in the room.
Keep in mind that some unscrupulous agents or landlords will list a space as having an extra bedroom when it actually doesn't, based on legal sizes and requirements. This is why it's important to tour the home (whether in person or virtually) before you move in. "If you didn't know that when you bought, you might get an unpleasant surprise because a two-bedroom apartment is a lot different from a one-bedroom," Sykes says. "You might be losing money."