A Joyful, Colorful Berlin Apartment
We independently select these products—if you buy from one of our links, we may earn a commission. All prices were accurate at the time of publishing.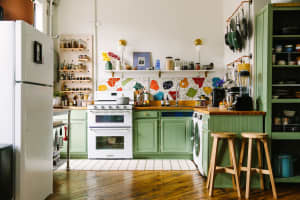 Can't-Miss House Tours Straight to Your Inbox
Keep up with our latest house tours each weekday with our House Tour of the Day newsletter
Name: Mireille and Simon
Location: Alt-Moabit, Berlin, Germany
Size: 1,140 square feet/106 square meters
Years lived in: 8 months; rented
Entering Mireille and Simon's rambling, open-concept living space, it's easy to forget for a moment that you're standing on the top floor of a Deco-era building situated just north of Berlin's Tiergarten and Brandenburger Tor. With its massive windows, towering cacti in bright vessels, and abundant light, the vibe of their home is warm and relaxed, cozy and inviting — perhaps more evocative of the North American West Coast than Northern Germany.
Follow Topics for more like this
Follow for more stories like this
When the couple relocated to Berlin from Erfurt, Germany, earlier this year, they specifically sought out a Ranch-style apartment with an open plan. As an opera singer, Mireille often travels for her job and is away from home for long stretches, and she was looking for a space reminiscent of the homes in Vancouver, where she grew up, with "endless wood and windows." Simon, who's German, finds the aesthetic equally appealing, though more as an exotic departure than a return home.
When it comes to decorating as a pair, Mireille and Simon have no rules, save one: that everything they choose must have personal meaning and bring joy to the home. Indeed, a tour of the apartment yields a delightful personal history: mementos from past opera productions, souvenirs from European vacations, gifts from parents, and many discoveries from the local Trödelmarkts, second-hand shops and occasional basement of Erfurt. Note the highly diverse resource list below: nearly every surface and object in the home is special in provenance, and the space feels accordingly magical.
Though Simon prefers streamlined and modern furnishings and Mireille is charmed by the furniture and homewares of the former DDR, they've managed to find a beautiful balance in their space: a streamlined layout with cozy, smaller groupings of furniture, much of it vintage and found in second-hand shops. They also both love the unexpected and offbeat (for example, the Parisian gargoyle looming out over the dining table), have an eye for the unique and clever (their organ pipe bookshelves), love to entertain in their home (see the column in the kitchen documenting the visits — and heights — of friends and family), and are drawn to bright, happy, saturated colors.
With mementos and memories of Vancouver, Nice, Paris, Erfurt, Toronto, Berlin, Barcelona and elsewhere slowly filling the walls, with the echoes of home and the design elements of an adopted homeland filling and warming the sun-filled space, it's clear that Mireile and Simon know how to make their space sing with warmth, charm, and personality.
Apartment Therapy Survey:
My Style: Joyful, colorful, and old-timey. I am in love with things from the DDR,with some West Coast style mixed in. Luckily, Simon likes the West Coast look because it is so exotic for him.
Inspiration: Paintings of interiors (especially of 19th century interiors). I also find a lot of inspiration in other people's homes and in modern museums.
Favorite Element: The open plan and all the light.
Biggest Challenge: Hauling things up the many flights of stairs was certainly a big challenge. Decorating the bedroom is always a bit difficult for me, as I typically leave this room to the very last!
What Friends Say: It was worth the climb up all those stairs.
Biggest Embarrassment: There are a lot of windows in this place and no curtains!
Proudest DIY: Our bedroom closet! Simon designed and built the entire thing, using copper pipes, repurposed wire, and wooden boards from Bauhaus. It's heavy construction, so it took some engineering! Like most apartments in Germany, the kitchen was also a DIY: we assembled the single pieces from IKEA, going for an open-shelving look (and using the mirror along the middle shelf to expand the sense of space).
Best Advice: Put things in your house that bring you joy.
Dream Sources: People's attics throughout former East Germany
We are too lazy to paint and also decided to rather spend money on things we can take with us when we leave. So, the color is rental white!
Native plate: from Mireille's parents in Vancouver
Iron stool: designed and welded by Simon
Paintings: some from a second-hand store in Erfurt and some inherited from Simon's dad
Clock: Tiergarten Flohmarkt
Cacti: some were gifts from Simon's parents and others were bought at Aldi
Red buffet: IKEA
Hanging lamp (above dining table), standing lamp, swivel chair, wooden sideboard: all from Simon's parents. Simon and I managed to drop and break two out of three glass sconces of the hanging lamp, so I went to an antique lamp store in Charlottenburg and replaced all three. The swivel chair was in bad shape so we had it reupholstered (the shape was just too beautiful to give up on).
Demi-lune Danish hall table (used as computer table because I didn't want it to be too obtrusive. I love the half moon shape, but the downside is that you have a leg between your legs, if you know what I mean): Modern Times in Berlin
Green petrol lamp: Craig's List
Porcelain dog, blue glass petrol lamp, Danish side table, glass coffee table: all found in second-hand stores in Erfurt
Green upholstered chair: DDR warehouse in Chemnitz
Couch: A farmer's basement in a village near Erfurt. He said it was too delicate a couch for him!
Gargoyle: from a flower shop in Paris near Notre Dame
Alcove prints : street artist in Nice, France
Photo: Berlin photographer/artist, Sarmad Attar Bashi
Mirror: Reclaimed from an abandoned home in Erfurt
Lamp stand: Flea market in Antwerp
Tin man on windowsill: designed and welded by Simon
Dining table, small wicker chairs, bookshelves: Ikea
Organ pipes (improvised bookshelf): reclaimed from a church basement in Brandenburg, Germany
Big wicker chairs: Octopus in Hamburg
Cushions: from the prop department of Theater Erfurt
Sheep skin rug: a Saturday market in Erfurt
Blue buffet: abandoned in a basement in Erfurt
Art : Barcelona, Erfurt (I often go to thrift shops in Erfurt and find things from the DDR. I don't bother in Berlin because it is too expensive and picked over)
Appliances: a guy in the neighborhood gave us a deal. The dishwasher was quite ugly so we bought black sticky paper at Bauhaus and covered it
Refrigerator: a friend was left with two after a break up and we lucked out
Kitchen cabinets: IKEA. The countertop belonged to Simon's parents. Built and assembled by us and Simon's dad
Plates, glasses, pots etc.: either second-hand things produced in the DDR or bought at TK Maxx (TJ Maxx of Germany)
Cocktail chair: Craig's List
Bed: Octopus in Hamburg
Closet: DIY of Simon's design (materials from Bauhaus)
Art next to closet: a sketch of a costume design from a production in Toronto
Curtains: I had to convince Simon of these, as he thinks they are a bit Grandma, but the heavy layer blocks out the light and the sheer layer blows in the wind and makes me smile. The props department in Erfurt made them for me.
Bedside tables: DDR warehouse in Chemnitz
Antique wood dresser: Simon's parents
Red glass hanging lamp: we haggled at a second hand shop down the road. We are still looking for matching lamps for the bedside tables.
It was bare when we rented it and Simon's family surprised me for my birthday by beflowering it and decorating the whole space! They made the blue sail shade themselves.
Tablecloth: bought on the street in Malaysia in order to visit a mosque; it has since made a beautiful tablecloth!
Thanks, Mireille and Simon!
(Images: Lydia Brotherton)
• HOUSE TOUR ARCHIVE: Check out past house tours here.
• Interested in sharing your home with Apartment Therapy? Contact the editors through our House Tour Submission Form.
• Are you a designer/architect/decorator interested in sharing a residential project with Apartment Therapy readers? Contact the editors through our Professional Submission Form.
Re-edited from a tour originally published in July 2013 — AB