The Brand Behind This Editor-Favorite Knife Company Just Launched a Must-Have Cutting Board
We independently select these products—if you buy from one of our links, we may earn a commission. All prices were accurate at the time of publishing.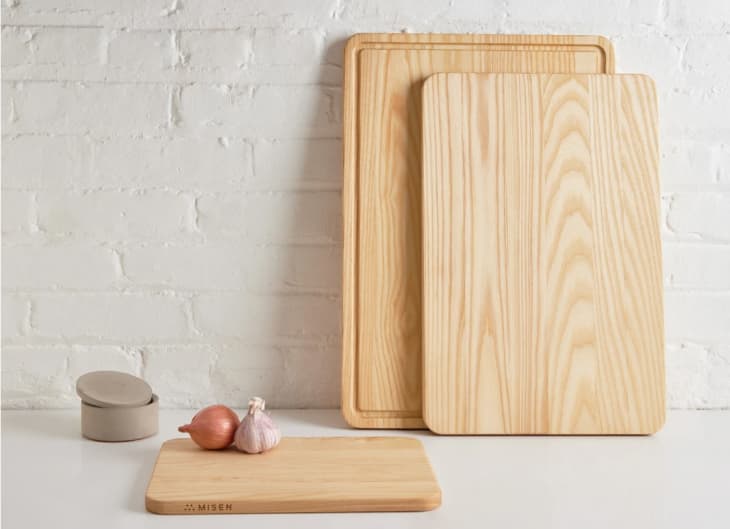 It's no secret that Kitchn editors are big fans of Misen. You've probably read them gushing over Misen's affordable kitchen tools (hello, kitchen shears), popular cookware (we can't get enough of this carbon steel wok), and of course their knives (especially this editor-favorite pick.) Well, they're happy to announce that the brand has done it once again!
Well-known for their reliable and beautiful knives, when we found out this Brooklyn-based kitchen company was releasing a new cutting board, we couldn't help but think: "Finally, a cutting board worthy of a Misen knife!" Starting at just $30, these cutting boards offer chef-grade quality at an affordable price point. These lightweight boards come in three sizes (small for $30, medium for $50, and large for $70), so they work for virtually any kitchen setup.
The truth is, it can be really tricky to find a good cutting board. So many of us have settled for dingy plastic boards, or have held on to our old warped-wood board for far too long. If you've been searching for a replacement, look no further. With superior edge grain wood surface for longevity, this cutting board is not just beautiful, it's also built to last.
Perfect for chopping everything from celery to chicken, this board deserves a permanent spot on your kitchen countertop. However, if you do plan to store this awesome score in a kitchen drawer or cabinet, you're in luck: Misen has crafted these cutting boards to maintain their durability while still being thin and light enough to lift, clean, and easily store out of sight. Basically, however you plan to use it, you just can't go wrong.
Get ready to clear out your cabinets, because there's a new cutting board in town!