The Sold-Out $15 Kitchen Shears with a 2,200-Person Waitlist Are Back in Stock (But Probably Not for Long)
We
independently
select these products—if you buy from one of our links, we may earn a commission. All prices were accurate at the time of publishing.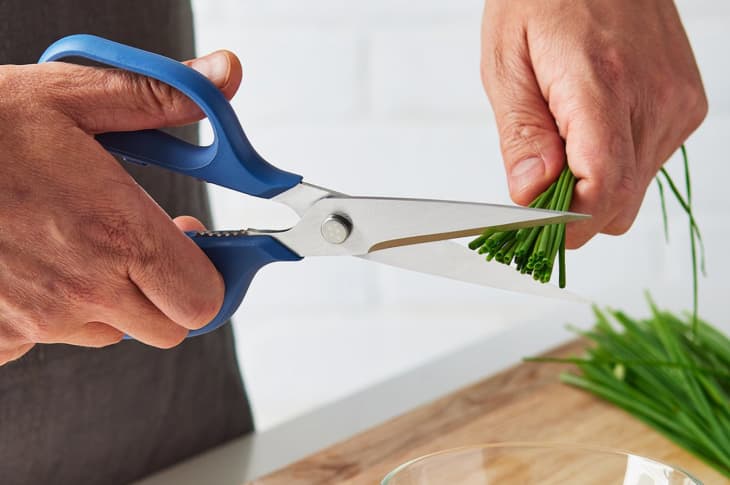 Leave it to Misen to come out with a pair of kitchen shears that rack up a waiting list of thousands. The direct-to-consumer brand is a favorite of our sister site Kitchn, especially for their line of ultra-sharp home cook-friendly knives. So it's no surprise that they'd also nail one of the most important kitchen tools to complement your knife collection. In fact, their kitchen shears were such a hit when they launched back in August that they sold out in less than a week. The good news is they're back in stock — but you'll have to hurry, as they're bound to get snatched up quickly!
Deboning chicken thighs, snipping dried fruit, cutting open hard plastic packages — these kitchen scissors are up for the job. The stainless steel blades are micro-serrated to make smooth, straight cuts and prevent blade slippage, while the roomy, ambidextrous handle loops keep hands comfortable and in control. You'll use these shears constantly, as the cookware brand says that they're sharp enough to snip twine and mince herbs without bruising them, yet strong enough for tougher tasks like cutting chicken bones and crab shells.
And if one of the reasons you avoid pulling out your shears is that they're annoying to clean, you'll love that these Misen scissors are detachable, making them so easy to wipe down after each use. Tons of reviewers have raved about how much they love their shears, many noting how sharp they are right down to the tip. "The Misen Kitchen Shears live up to the Misen recommendation of outstanding cutting. Easy to use, easy to clean," one reviewer wrote. One customer even said that they're the best kitchen shears they've ever used after decades of cooking! 
At just $15, these shears are a steal, especially when you consider how often you'll use them. And if you buy them right now, you can also take advantage of their 20 percent off holiday sale. They'll be the perfect stocking stuffer for your favorite home cook or a wise addition to your own kitchen.