"Middle Neighborhoods" Could Be the Answer to Your Home Search Struggle
We independently select these products—if you buy from one of our links, we may earn a commission. All prices were accurate at the time of publishing.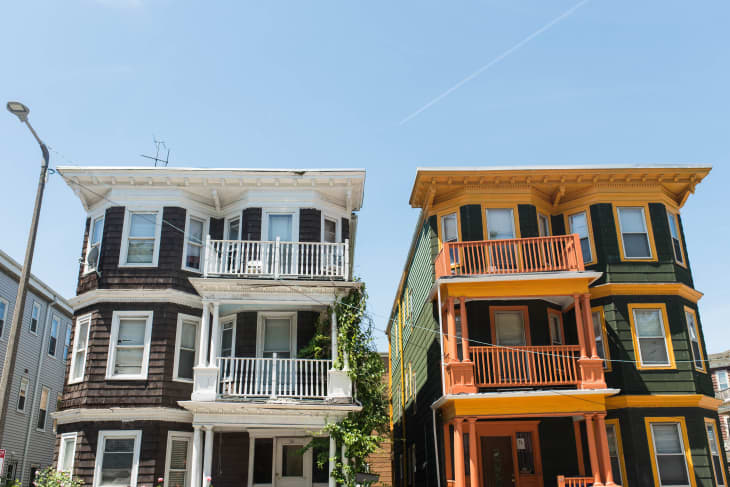 If you've scrolled through Zillow anytime in the last few months, you've probably noticed a real lack of available homes in prized neighborhoods. There are a lot of reasons for this, starting with the pandemic's shake-up of buyer preferences. When so many people crave the same things — a little more space, maybe a yard, proximity to neighborhood amenities and family — the competition can feel steep. 
Follow Topics for more like this
Follow for more stories like this
There's an overlooked type of housing that can step in and fill the inventory gap, though. It's called the missing middle, a term coined by architect and author of "Missing Middle Housing: Thinking Big and Building Small to Respond to Today's Housing Crisis," Daniel Parolek. It describes the many housing types in between single-family detached homes and large apartment buildings, like row houses and duplexes. Other less familiar missing middle homes include three-plexes, triple-deckers, and four-plexes (i.e. small apartment buildings with three or four units), as well as cottage courts, or small detached homes clustered around an inner courtyard.
This sort of housing used to be the norm until around the 1950s. Before then, people in all stages of life (and income brackets) could typically afford to live in choice neighborhoods, close to jobs, stores, and entertainment. Missing middle housing enabled cities to fit more homes into compact neighborhoods and made ownership far more attainable for the average person — not only because smaller homes are cheaper, but also because someone who might be on the edge of affording a home had the chance to purchase a duplex, and could count on that rental income to help cover the mortgage. 
Unfortunately, this is labeled "missing" today because most of the neighborhoods that were built up since the '50s have, almost exclusively, been composed of a narrow set of home types — largely single-family, suburban-style homes (for a whole host of reasons) or, in very big cities, high-rise apartments.  
A closer look at those neighborhoods that still have the architecture of the missing middle can point the way toward greater housing choice for all. You'll find them in the core historic neighborhoods of many towns and small cities, as well as on the edges of bigger cities. Madison, Wisconsin is an example of a small city with an array of missing middle housing in its center, much of it clustered around the University of Wisconsin. In "streetcar suburbs" like Oak Park, Illinois, and Somerville, Massachusetts, so named because they were located within a streetcar ride of nearby metropolises, missing middle housing proliferates, providing opportunities for young professionals and working families to have a little more space than a downtown apartment might allow while still remaining affordable.
Parolek has recently started calling these "middle neighborhoods." They offer a sweet spot, he says, between petite downtown apartments and large suburban homes — something that's particularly desirable during this pandemic. A townhouse or duplex typically affords some private outdoor space and avoids the shared lobbies and elevators that are typical in an urban apartment complex. Missing middle homes are also far more affordable than a full-on single family suburban house, and they offer something many suburbs don't: walkable and bikeable access to jobs, shops, schools and more.
With remote work looking like it's not going anywhere any time soon, imagine taking your job outside a major city, buying or renting a bigger space with a yard (at an affordable price point!), and still being able to walk to a coffee shop or clothing store like you did in the city.
"I think that sort of transition is going to happen more and more," Parolek says. "I think we're going to see some of the folks that are deciding to move out of the San Franciscos or the Seattles or even the Austins — because they're too expensive — finding a smallish town of 50,000 or 100,000 that can deliver [the urban] lifestyle in a much more affordable way."
Enthused about the possibilities that missing middle offers? Keep an open mind about living in a smaller city or town, and consider older buildings that may need some fixing up. If you're scrolling through Zillow, look for the parts of any city that are close to the center and designed in a grid, and chances are, you'll find missing middle there. The next step, if you really want missing middle proliferating in your community, is to advocate to allow more of it. Unfortunately, due to current zoning codes, parking minimums, and other restrictive policies, most missing middle housing is illegal to build today. Neighborhoods could become more welcoming spaces for people of different incomes and different family sizes if we allowed more diverse types of housing to be built in them.