Explore Mars From Home With Smithsonian Channel's New Augmented Reality App
We independently select these products—if you buy from one of our links, we may earn a commission. All prices were accurate at the time of publishing.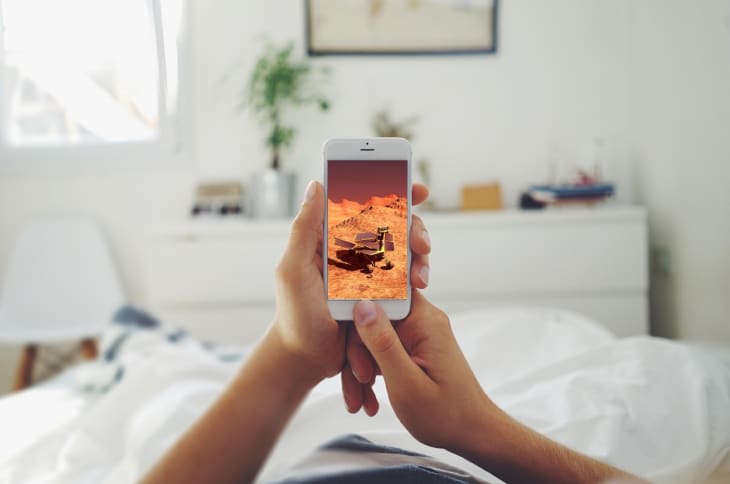 Amateur astronauts, rejoice! To coincide with the historic landing of NASA's Perseverance rover on Mars, the Smithsonian Channel teamed up with Immersion, a Warsaw-based augmented reality studio, to launch a cosmic new app that allows people to explore the Red Planet—all from the confines of their own homes. Mission to Mars, available for free for iOS and Android mobile devices, is an augmented reality app that allows users to superimpose images and videos from Mars into their surroundings. The immersive app hopes to engage and educate users about the wonders of the planet.
Comparable to the popular Pokémon GO, Mission to Mars offers an interactive look at the rover designs and the planet. App users could drive the rovers around, launch a rocket, navigate a portal onto the surface of Mars to witness the Perseverance in action, and attempt the "7 Minutes of Terror"—a feature that allows users to try their hand at a landing sequence in a rover as it penetrates the planet's atmosphere. Some educational features include quizzes, images, and clips from the Smithsonian Channel's documentary, "Making Tracks on Mars."
"We want to reach beyond just the space enthusiasts who are following every single aspect of the mission," Charles Poe, senior vice president for global production and emerging technology for the Smithsonian Channel, said of the new Mission to Mars app, per Travel and Leisure. "We want to make sure everybody appreciates both the technical challenge, the extraordinary achievements that are part of this mission. And I do think that augmented reality lets you appreciate that in a completely different way."
Go forth and turn your living rooms, backyards, or kitchens into Mars, fellow space enthusiasts! Mission to Mars is free to download on the Apple App Store and Google Play.