The 9 Mistakes Winter Home Sellers Make in Their Yards
We
independently
select these products—if you buy from one of our links, we may earn a commission. All prices were accurate at the time of publishing.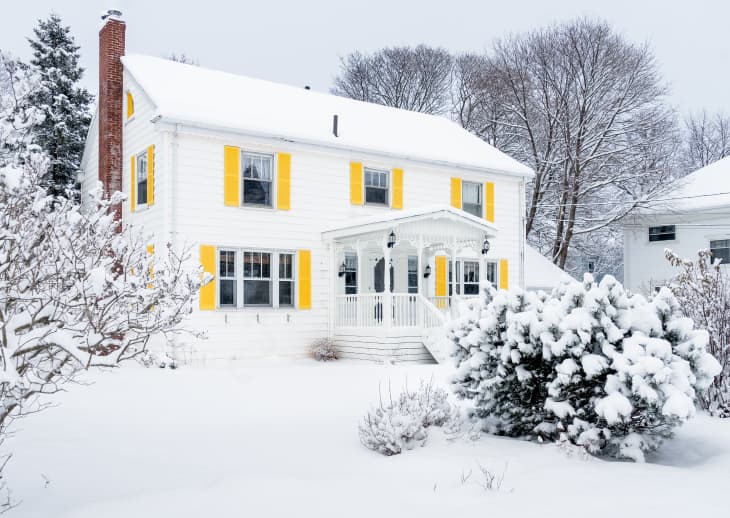 If you're selling your home in the winter, you might think all you have to do is add some garland and a strand of twinkle lights to that "for sale" sign, and voilà! You've got a winter wonderland home buyers will love. 
Not so fast. Even if Mother Nature boosts your curb appeal with freshly fallen snow to adorn your lawn and rooftops, you'll need to step it up.
"It's all about first impressions," says Christa Kenin, a real estate agent with Douglas Elliman in Fairfield County, Connecticut. "Buyers are judging a home before they even step inside."
They might indeed be rushing inside your home to escape the cold this winter, but they'll notice a few things as they do. Try to remedy these nine mistakes before putting your place on the market.
You're likely all in on a deep clean of your home's interior prior to the open house, but don't forget about the outside. "The exterior of the home should always be clean before listing it for sale," says Jon Sanborn, a licensed real estate agent in San Diego and cofounder of SD House Guys, a homebuying firm. He recommends a pressure wash to peel off months' worth of dirt, mud, and debris from siding and other outdoor surfaces like walkways, driveways, patios, and decks.
At the very least, wash those windows, advises Kenin. "Shiny, clean windows are always appealing and make a home look clean and fresh," she says. "Clean windows also help distract buyers from focusing on older windows and molding."
Burnt-Out Exterior Lighting
Tour your home's exterior at night and make a note of where you need to replace lightbulbs. "A house with burnt light bulbs immediately sends the wrong message and signals that other parts of the home may not be well maintained," Kenin says. Many home designers will also recommend using all cool or warm bulbs for a uniform look, so keep that in mind when stocking up on replacements.
Now's the time to replace or regrout any bricks or pavers in disrepair around your home's exterior, especially if they're lining walkways, says Kenin. It also goes without saying that if snow or ice has fallen, you'll want to ensure that all walkable hardscapes are clear.
Discarded Sports Equipment and Outdoor Toys
Stow away any sports equipment taking up yard space, like "monster-sized" soccer or lacrosse nets, says Kenin. And if there's equipment in disrepair — like a basketball hoop with a chipped backboard or torn net, for example — get rid of it. The same goes for old, rickety swing sets and plastic dollhouses. 
Cluttered or Broken Gutters
No one notices gutters until they're broken or overflowing. Make sure yours are neither, says Sanborn. "Not cleaning out gutters will create an eyesore for potential buyers, as well as possibly lead to water damage or foundation issues if left unchecked," he says.
Forrest McCall, a real estate professional and owner of the DIY site MamaNeedsaProject.com, agrees. "Realtors and buyers will quickly spot a leaking gutter from melting snow, which can lead to a reduced offer," he says. 
Overgrown Trees and Bushes
In the springtime, it's all about a lush green yard for curb appeal. But in winter, it's all about mitigating damage to your home, according to McCall. "Trimming trees and bushes before snowfall can help prevent potential damage during snow storms, which buyers are always on the lookout for," he says.
Sanborn says winter is the best time for roof repairs because materials are usually cheaper and hot weather isn't a concern. "Failing to make any needed repairs can put buyers off, especially when considering the potential expense of having to replace or repair a roof," he says.
If you've got a peeling stair rail, cracked doorbell button, or rotted-out mailbox, fix or replace them all, says Kenin. None of it says "welcome home" to would-be buyers.
Swimming season might be over, but don't think buyers will ignore a closed pool covered in dirt or soggy wet leaves. "A dirty pool will be an immediate turn-off to potential buyers, as well as create a hazard for anyone who may be interested in taking a closer look," says Sanborn.
And you thought yard work was just for the spring and fall! There's plenty to do besides shovel snow and ice in wintertime, especially if you're looking to attract home buyers. "During winter, buyers will focus on these elements more because they are not busy admiring green grass, landscaping, and pretty flower beds," says Kenin. By avoiding these common winter home mistakes, you'll have a better chance of a "sold" sign in your yard by spring.