9 Things in Your Yard to Hide Before an Open House, According to Real Estate Agents
We independently select these products—if you buy from one of our links, we may earn a commission. All prices were accurate at the time of publishing.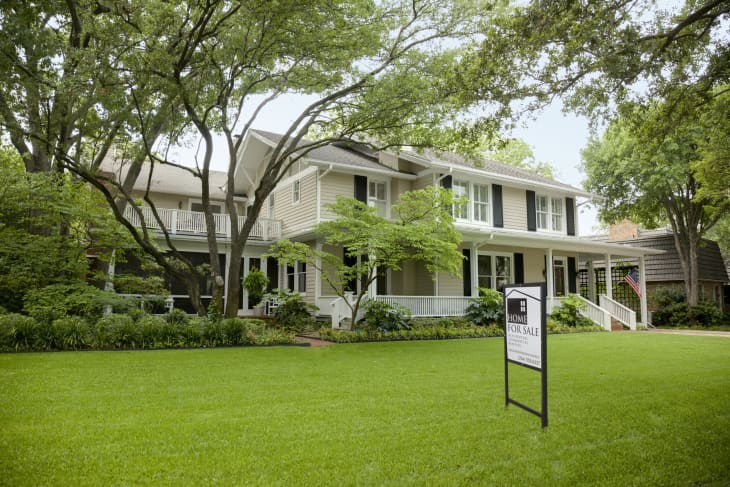 Curb appeal is key for wowing potential buyers as soon as they show up for an open house, and that means having a well-maintained yard. But don't sweat it if you don't have the largest or nicest one on the block. Aim instead for neat and tidy, which involves storing or hiding away some things you've left out and completely getting rid of others. 
Here are eight things real estate agents kindly ask their sellers to take care of before hosting an open house.
Unless your nearest neighbor is half a mile down the road or you've got a driveway that's a mile long, Kristen Conti, broker-owner of Peacock Premier Properties in Englewood, Florida, says find another spot for your cars, bikes, and definitely your boat.
"You need to create openness and space as people walk up to the entrance," Conti explains. "This allows the potential buyer to visualize their vehicles in the driveway and sets the stage for them [to see themselves living here]." For open houses, she even puts up a sign in the driveway that says "Parking for Future Homeowners."
It's great if you have a wonderful yard perfect for playing. But don't feel like you have to leave out the kiddie pool to entice buyers with children. "Children's toys of all kinds should be removed," says Conti.
It's OK if your garden isn't worthy of a Home & Gardens magazine photo spread. But do remove the weeds, says Priscilla Holloway, real estate agent and new construction expert at Douglas Elliman. She's even taken a weed wacker in her own hands prior to a showing for a client's house, though she'd much prefer it if the sellers did it themselves.
"I always advise my sellers to landscape and clean up the property when preparing to put the house on the market," she says. 
Lawn Equipment and Garden Tools
A well-maintained lawn and garden are important for curb appeal, but please don't show off the tools and gadgets you used by leaving them in the yard or driveway. Holloway gently reminds her sellers that this is what sheds and garages are for. 
You don't have to clear your patio if you've got a beautifully arranged seating area there. But if you have mismatched chairs or anything else that doesn't add to the appeal of your outdoor area, Holloway says hide it.
Attention DIY warriors: Buyers don't want to see the "befores" of any of your projects, especially when it comes to outdoor endeavors. A major turn-off is having any cars or boats on blocks, along with assorted tools and oil cans, according to Conti. 
"Some people want to tinker while the open house is happening to be close to the action," she says. "This is a huge turnoff even for people who enjoy do-it-yourself projects."
The same goes for if you've got any starter pots out for your burgeoning flower or vegetable garden, says Conti. They're an eyesore and should be put away for showings. 
You're putting out the proverbial welcome mat, so it might seem counterintuitive to remove the literal one — especially if you want your open house visitors to clean their feet. Conti advises clients to replace the mat with a new one when showing the home and either hide or ditch the one you've been using. 
"People are going to judge how you take care of the inside by what they see as they enter the home," she says, noting that a fresh coat of paint and new hardware on the door "can make a world of difference." 
Anything Highly Personalized
Real estate agents often advise sellers to pack away highly personalized decor indoors, especially family portraits or personalized signage like "The So-and-Sos Kitchen." Do the same thing for your yard, says Shaun Martin, a real estate professional and owner and CEO of The Home Buying Company in Denver.
"While you want potential buyers to feel like they could be the future owners of the home, you don't want them to feel like they are invading [the seller's] personal space," he explains. This includes political signage and displays of religious affiliation, sentiments that might be shared by some potential buyers but certainly not all.
A Final Tip for Tidying Your Own Yard
In preparation for an open house, Conti walks the property with her sellers, encouraging them to see it all through the eyes of the homebuyer. 
"I ask them to tell me what looks out of place and we usually have a good laugh or two," she says. She admits her own yard "has a lot of tchotchkes that I love but not everyone does." But they'd be gone in a minute if she were selling. "How we live in a home and how we show a home are two different things," Conti says.