This Beach Chair is So Comfortable That I Put It in My Living Room During Quarantine
We independently select these products—if you buy from one of our links, we may earn a commission. All prices were accurate at the time of publishing.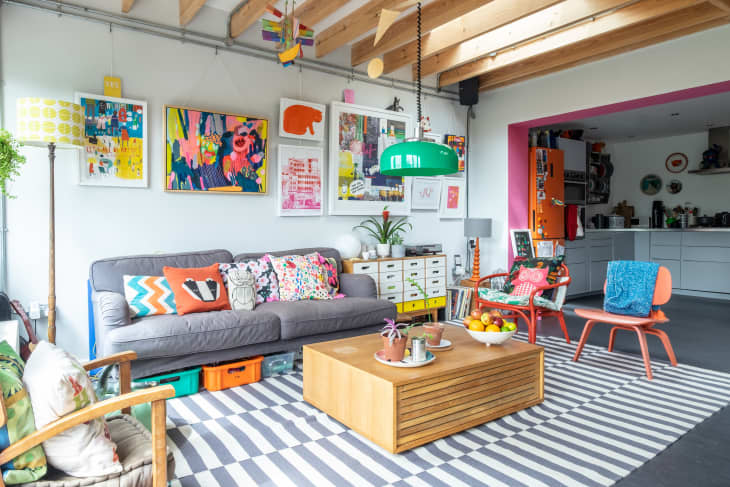 When the shelter-in-place order first went into effect 16 months ago, my now-fiancé and I were trying to find new ways to make our city apartment feel more like an outdoor oasis. (As much as we love our home, a person can only stay inside for so long.) Fortunately, our unit has access to a light well and — after pleading with our landlords — we finally got permission to use it for a couple hours each day.
Since the light well isn't technically part of our unit, we're not able to deck it out with a hammock, grill, and tiki lights as we would like. But, that doesn't mean we couldn't make our time outdoors somewhat comfortable. "Let's get some really comfortable lounge chairs," my fiancé suggested mid-Amazon browsing. One thing led to another, and we stumbled upon our favorite quarantine purchase: Best Choice Products' Reclining Chairs.
At first glance, this option looks like any other beach lounge chair. It has an adjustable construction, so you can kick back and relax. Plus, the weather-resistant material is perfect for bringing to the beach, pool, or your backyard. (There's even a detachable pillow and cup holder to level up your fun in the sun.)
But what really makes this chair shine is how comfortable it is. Not only does this one have a zero-gravity design, but the chair also boasts elastic bungee cables that can immediately adjust to your body's weight. (FYI, this chair can hold up to 250 pounds, so it's definitely built to last.) As someone with chronic back pain, I was amazed that the fully reclined position alleviated almost all of my tension. Whenever I glide into that ergonomic angle, I completely forget about any discomfort I felt earlier that day. Dare I say I've never been so comfortable?
Ever since we purchased these chairs almost a year ago, we've told everyone about them. My fiancé and I bought a set for both of our parents, who also love them. Plus, we even sold a few members of our social distancing pod on them, including one of our pregnant friends. (If that's not a convincing testimony, I don't know what is.)
After a while, my fiancé and I would place one chair next to our sectional sofa so we could both lounge during movie night — and it was brilliant. So genius that we've actually given one of our lounge chairs a semi-permanent spot in the awkward, empty space between our sectional and the window.
I know you're wondering why anyone would ever put a beach chair in their living room, but let me explain: This chair is so comfortable that it makes for the perfect nap chair. Whenever I feel tired, I can take a seat, put on a podcast, and doze off in no time. Plus, each end of the chair is flanked by my super lifelike faux plants, which makes sporadic naps feel like a tropical getaway. And, since we keep the chair in its fully reclined position, most of the chair hides nicely behind our sectional. (Read: It's not an eyesore.)
The only caveat I can think of is its price. At $120, these chairs aren't exactly cheap, but it's important to remember they come in a set of two. Sixty dollars for unparalleled comfort? I've definitely spent more on chiropractor appointments.
Summer is right around the corner, so it's officially time to enjoy the great outdoors. And, since the world is slowly starting to open up, it's safe to say we'll be spending less time in our light well this year. But, whether we're headed to the beach or hanging at home, I think you know where I'll be sitting.