Take a Peek at This Year's Most Instagrammable Leaf-Peeping Locations
We independently select these products—if you buy from one of our links, we may earn a commission. All prices were accurate at the time of publishing.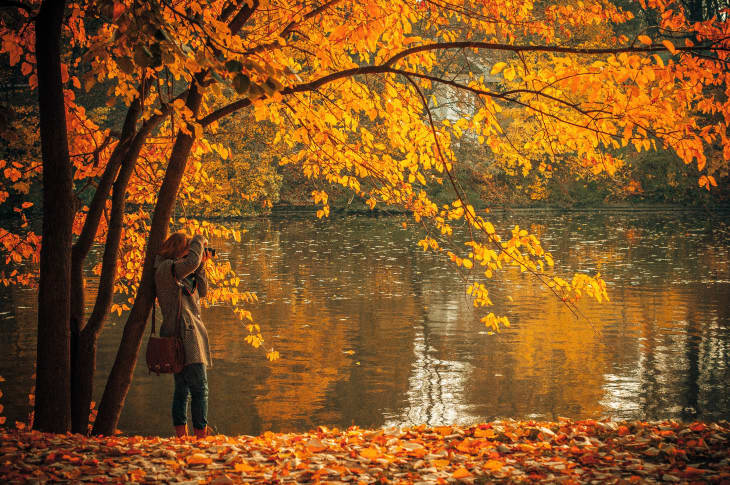 Even if you're sad to say farewell to summer, there's no denying that the thrill of that first fall chill is palpable. If your summer or fall travel plans are in flux due to rising COVID cases globally, there's no need to fret. The travel experts at Next Vacay compiled a list of the 10 most Instagrammable leaf-peeping locations in the U.S., which means you likely won't have to travel far to sneak a peek at autumn in all its glory in the coming weeks.
Follow Topics for more like this
Follow for more stories like this
First, the pros at the online travel database took to Instagram to find the top leaf-peeping cities nationwide, taking into account the number of hashtagged photos in each spot. They then used the Farmers Almanac to determine peak leaf-peeping season in each place. The end result: A comprehensive list of 10 spots with the exact times leaf-peepers can expect fall foliage will be in full bloom.
Taking the top spot to snap those perfect fall selfies is Cape Cod, Massachusetts. Boasting more than 3.2 million hashtagged photos on Instagram alone, it's no surprise why tourists head to Cape Cod each year to see fall in full view with a backdrop of the Atlantic Ocean. The best times to go inland are Oct. 5-21, while the coast will be prime between Oct. 12-28.
Trailing behind is Asheville, North Carolina, with nearly 2.4 million Instagram hashtags. With peak foliage happening inland between Oct. 12-28, and on the coast between Oct. 19-Nov. 4, Next Vacay's experts recommend visiting Rough Ridge on Tanawha Trail, Beacon Heights Trail and Whiteside Mountain Trail for the dreamiest, no-filter-necessary foliage shots.
Coming in third is Aspen, Colorado, which boasts nearly 1.7 million hashtags. Fall foliage in this ski resort town peaks between Oct. 5-14, and there's no shortage of stunning nooks and crannies nestled between the Rocky Mountains for visitors to enjoy.
No matter where your travels might take you between late September and early November, you're sure to have a blast. Next Vacay's founder and CEO, Naveen Dittakavi, told Apartment Therapy, "Leaf-peeping marks the beginning of Autumn and what better way to commemorate the change of seasons than visiting some of the US's most beautiful and Instagrammable spots. Many are unsure about foreign travel, but we can take this opportunity to embrace the beauty on our doorstep and enjoy a trip closer to home while also helping the tourism industries in our local areas."