This Is the Most Popular Time To Put Up Holiday Decorations
We
independently
select these products—if you buy from one of our links, we may earn a commission. All prices were accurate at the time of publishing.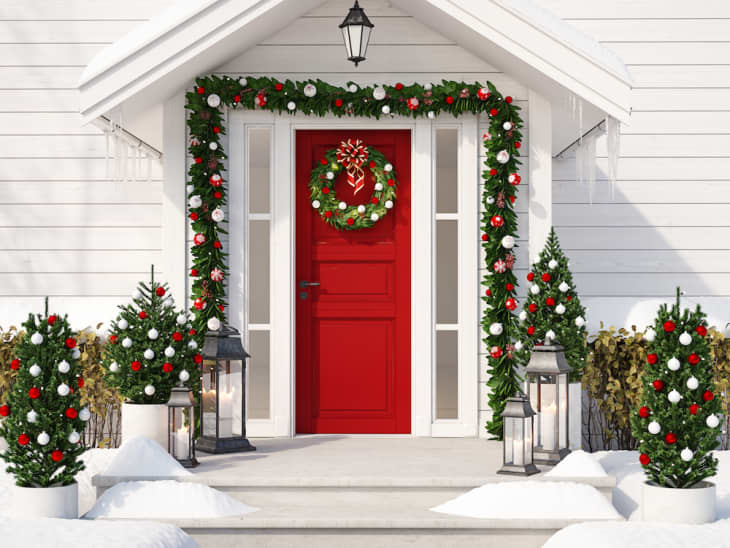 Picture it now: it's early November, you're walking your dog around the block or perhaps returning home from the grocery store, and suddenly, you spot them. You know, them: colorful LED lights, a giant inflatable reindeer, and other winter wonderland accents adorned on the exterior of your neighbor's home. It could all only mean one thing. It is here. It is time. The holiday season is upon us. According to a recent survey, your holiday-enthused neighbor is part of a sizable group of people who put up holiday decorations long before Thanksgiving. 
YouGov, an internet-based market research and data analytics firm, is at the helm of the festive survey. The firm recently polled 2,748 adults in the U.S. who celebrate Christmas, Hanukkah, or Kwanzaa to determine the most popular time to put up holiday decorations. Among those surveyed, 27% of people put up their holiday decorations before Thanksgiving, while 69% wait until after Thanksgiving to pull out their decoration boxes. With these statistics in mind, YouGov determined that most people will have their decor up long before November ends. 
While your holiday-enthused neighbor might have their yard decked out to the nines, however, YouGov's findings also indicate that much of the more extravagant holiday decor will be found behind closed doors. The firm found that only about 42% of people bothered to decorate the exterior of their homes, while 70% focused more on the interiors.
In any case, there's no shame in decorating long before the holidays actually arrive. In fact, psychologists have maintained that people who decorate earlier for the holidays tend to be happier beings. Steve McKeown, a psychoanalyst and founder of MindFixers, vouched for the visual cues of holiday decorations and its positive impact on our psychological state in an interview with UNILAD. 
"In a world full of stress and anxiety, people like to associate [with] things that make them happy, and Christmas decorations evoke those strong feelings of childhood," McKeown said. "Decorations are simply an anchor or pathway to those old childhood magical emotions of excitement, so putting up those Christmas decorations early [can] extend the excitement."
So, go forth with early holiday decorating if you so please, little holiday elves—your happiness might just depend on it!