This Everyday Object Is the Most Useful Gift I've Ever Received—and It's Less than $10
We
independently
select these products—if you buy from one of our links, we may earn a commission. All prices were accurate at the time of publishing.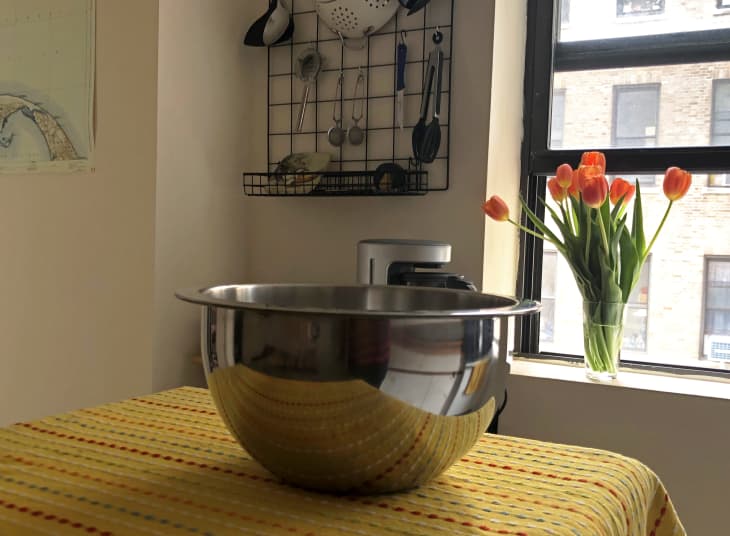 Back in the days when I'd just started living in my first apartment, I was enamored with kitchen tools. Golden flatware! Ombre dutch ovens! A portal to a world of new possibilities opened once I finally had my own kitchen.
So one Easter, I was especially delighted by the gift of a kitchen-themed "basket" from my boyfriend's grandmother: a shining stainless steel mixing bowl filled with goodies. Don't get me wrong, the goodies were great—I loved the delightful-smelling bag of light-roast coffee and that brand-new whisk—but it's the bowl I want to tell you about. This seemingly boring thing is one of the best gifts I've ever received.
Why, you ask, do I love this bowl? The thing is so darn useful! I've been tossing ingredients in that bowl almost every day for years. Then there's its versatility. I've stirred banana bread batter in The Bowl. I've let dough rise in it. I've used it to coat veggies with olive oil and spices. It's also deep enough that I can fill it with water a couple of times, then dump the water into the portable washing machine in my apartment.
I realize it's a little weird to proclaim a bowl as the best gift of all time. (Cue the clip from Tim and Eric's The Universe: "It's not a bowl.") But I'd argue that everybody could use another bowl. While I do think it's an especially great under $10 gift for a new renter or homeowner, try to think of the last time your aunt got a new mixing bowl. There's a good chance she's still using one she got in the '80s. (Another mixing bowl pro: longevity!) A nice mixing bowl is something folks don't think to buy for themselves, and they certainly don't expect to be gifted one. This, I think, is what makes giving a bowl as a present so great—an irresistible combination of unexpectedness, practicality, and delight.
Filling the bowl with goodies is just the cherry on top (or, perhaps, the bowl full of cherries). It doesn't even have to be a kitchen-themed gift "basket" like mine was. You could fill it with sweets, with cute little jars of jam, with artisanal snacks, with Legos, with skincare products. The possibilities for The Bowl are endless, much like its lifespan.
A bowl is a superb gift, the gift of a super bowl.