4 Key Differences Between a Motel vs. Hotel — And Which to Pick
We
independently
select these products—if you buy from one of our links, we may earn a commission. All prices were accurate at the time of publishing.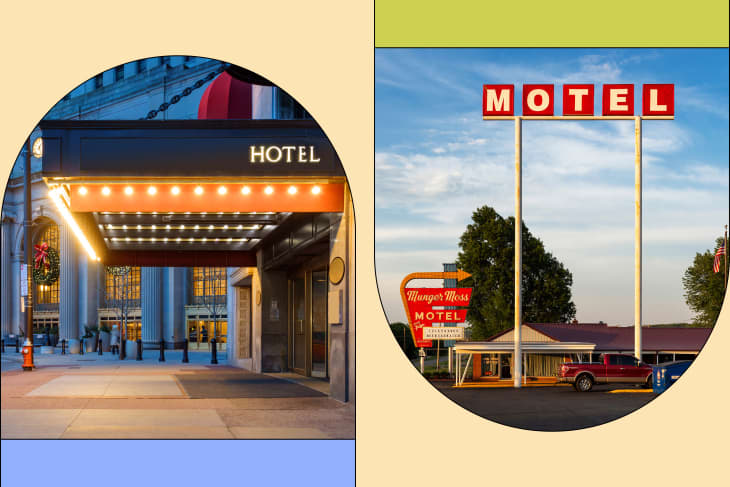 Besides picking a destination and the mode of transportation to get there, most folks book accommodations to ensure they have a place to stay. While lodging can make or break a trip, the huge range of options can make it daunting and confusing to choose a place to book. Do you choose the remote cabin in the woods, the unique Airbnb, or go the more mainstream route by booking a hotel or motel?
If you're considering a more traditional accommodation route, you'll find many motels and hotels, which begs the question: Are the words interchangeable? While both are worthy places to stay, there are benefits to choosing a motel vs. hotel, depending on your needs. So, before you head off on your next trip, here are the differences between a motel and a hotel and when you should choose one over the other.
What is the difference between a hotel and a motel?
Both hotels and motels offer overnight accommodations, but there are distinct differences between the two — and the names provide a clue. While hotel is a general name for a building with sleeping rooms, the world motel is a portmanteau: a blending of the words "motor" and "hotel." 
The term motel stems from the original roadside hotels folks would find while traversing the country on roads such as Route 66. When cars became more accessible, more travelers took road trips and needed places to stay overnight, and the term motel gained popularity. Here's a closer look at some of the key differences between a motel vs. hotel.
Motel rooms have a different arrangement than hotels.
Because motels were geared initially towards motorists, the design includes a way to keep automobiles close by. Typically, the arrangement of motels enables drivers to pull up to their rooms and see their vehicles easily. Sometimes, the layouts are more utilitarian, such as a single or double deck of rooms with exterior entrances (although the designs can also look different). In contrast, hotels usually consist of long, indoor hallways with rooms arranged on either side. 
Hotels have more amenities than most motels.
Hotels include a broad range of accommodation styles based on a star rating. For example, a one-star hotel has simple rooms with a bedroom and bathroom, but a five-star hotel can include an on-site restaurant, fitness center, and more luxe amenities, such as a spa and upscale toiletries. Motels, on the other hand, tend to offer a smaller range of perks. They may have a pool or a hot breakfast, but beyond that, you won't find many of the upgrades available at most hotels.
Motels generally cost less than hotels.
Many factors contribute to the cost of accommodations. The location is a big one, as some areas are more expensive than others, such as New York City vs. rural Tennessee. Amenities also affect the price, so hotels are generally more expensive than motels, which tend to be a more budget-friendly option due to their scaled-back list of on-site offerings.
Hotels typically have more rooms available.
Because the purpose is to have proximity to your vehicle, motel properties tend to sprawl out with only one or two levels of rooms and a large area for parking. In contrast, hotels have the luxury of building up instead of out, so the footprint takes up less space. High-rise hotels can have hundreds of rooms, whereas most motels cap off at much lower numbers.
When should you choose a hotel or motel?
There's a lot to consider when booking accommodations, from cost to proximity to your destination. But there are factors beyond those, too. If traveling with an animal, for instance, booking a pet-friendly motel makes bathroom breaks more convenient. Motels are also often more accessible for those who require assistance or are disabled. Also, a motel is the way to go if you want to be close to your vehicle or need a quick place to stay during a road trip.

When you want to focus more on the experience of the stay itself — say, when you're on a staycation — a hotel may fit the bill better. Often, the rooms are cozier, and amenities like a spa or gourmet restaurant can offer the relaxation you crave, so a hotel is ideal if you're spending a lot of downtime in your room or on site. Solo travelers may also feel safer in a hotel setting, where visitors must pass by a front desk or use a key card to gain access.