4 Things I Do to Save Money Every Time I Book a Hotel, as a Travel Writer
We
independently
select these products—if you buy from one of our links, we may earn a commission. All prices were accurate at the time of publishing.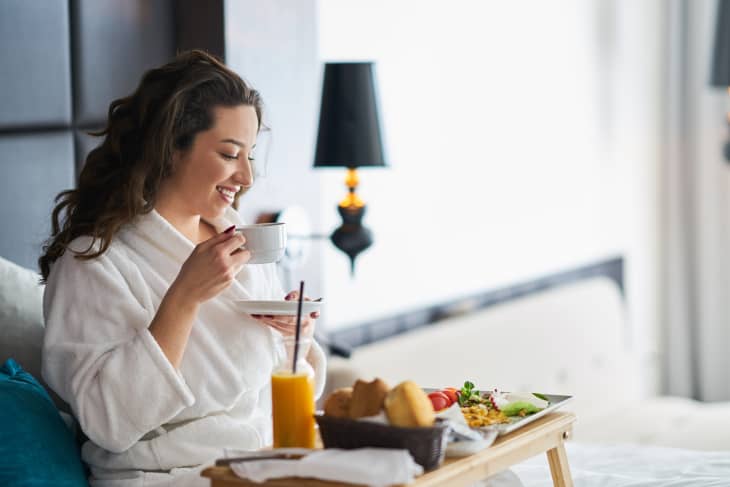 No matter where you roam, whether for business or pleasure, you'll need a place to stay. Lodging can often eat up a large portion of your travel budget — and that's where a little bit of savings each night can add up to a lot, especially if you're planning a longer vacation. But with all the discount booking sites and hotel alternatives, how do you truly save on your stay?
As a travel writer and mom of a college athlete (yes, we're those parents who still try to make it to every game), I've learned a few things along the way. And although there may be no perfect formula to save an exact amount, as it all depends on the type of accommodations you need, here is what I do to save on every hotel stay. 
Be willing to take a chance on secret deals.
One of my favorite booking sites for both flights and hotels is Priceline. As with many deal sites, you can find better prices on the app, where one of the best ways to save is to select one of their express or price-breaker deals. Although the exact location is hidden until you commit to booking, you can see the hotel's star rating, amenities, and general area to aid your decision. Priceline chooses the accommodations for you, but if you're willing to take a risk, it's easy to get a discounted hotel stay. 
Book directly with hotels.
Yes, this contradicts what I said above, but because of booking sites like Expedia and Hotels.com, companies have had to become competitive and often offer the best prices if you book with them directly. I've had luck calling the hotel chain or contacting the specific hotel itself. Because companies are selling their rooms at reduced rates to third-party booking sites anyway, they can offer you a discount while still making more money than they would if you book through Priceline and similar sites. Direct booking is especially beneficial if you have a hotel rewards program with a specific brand.
Take advantage of loyalty perks.
Sign up for a rewards program if you consistently gravitate towards a particular hotel chain. Many brands offer upgrades and special deals to their loyalty members, and each stay earns points towards perks or an eventual free night. Also, consider getting a hotel card if you're in the market for a new credit card. Companies like American Express and Mastercard have cards branded for specific hotel chains that can help you save money or earn toward complimentary stays. Additionally, some sites, such as Hotels.com, also offer free accommodations after a certain number of visits, which is one way I've had complimentary stays. 
Consider searching short-term rental sites.
If you do any traveling, you're probably already familiar with sites like Vrbo and Airbnb. Although not every stay booked on these sites equals savings, you can score a good deal depending on the number of people you have staying and the type of accommodations you need. In some cities, hotels are also listed on these sites. Although be careful because once Airbnb adds their fees on top of the base price, you could end up paying more for a traditional hotel room.